Are civil partnerships under threat?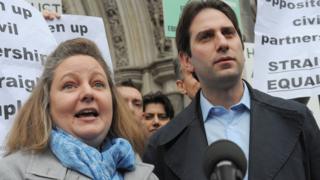 Civil partnerships in England and Wales could be scrapped or made available to heterosexual as well as gay couples, in a government review.
Ministers are set to back a bid by Tory MP Tim Loughton to equalise the law on civil partnerships.
Mr Loughton had originally wanted to amend the existing law to include mixed sex couples.
But that has been dropped from his bill in favour of the promise of a government review.
This could result in equality being achieved by scrapping civil partnerships for everyone.
Mr Loughton said this was the only way he could secure government backing for his Private Members Bill, which is due to get its second reading in the Commons on Friday.
The Scottish government has said it will announce its decision about the future of civil partnerships "in due course".
Mr Loughton said he still hoped his bill, which has cross-party support, will result in mixed sex couples getting the right to form civil partnerships in England and Wales.
"We are having to play a long game and I think we are still going to achieve what we want but we are going to have to jump through a few more hoops to get there," he told BBC News.
The Tory MP's bill says the government must publish a review on "how the law ought to be changed to bring about equality between same-sex couples and other couples in terms of their future ability or otherwise to form civil partnerships".
Mr Loughton said it could result in a range of options being adopted, including "doing nothing".
If civil partnerships were scrapped, those who have formed them might have to get married or continue as they are in a specially-created category, he said.
'Conversion rate'
Civil partnerships were introduced in 2004 but demand for them fell after gay marriage was legalised in England and Wales in March 2014, and in Scotland in December 2014.
There were just over a thousand civil partnerships formed in the UK in 2015, according to House of Commons library research.
By contrast, between 29 March 2014 and 30 June 2015, there were 7,366 marriages formed between same sex couples in England and Wales.
But Mr Loughton said the "conversion rate" of gay people in civil partnerships opting to get married was thought to be about 14%.
Some heterosexual couples who do not want a traditional marriage have been demanding equality in the law because they do not have the choice of a civil partnership as things stand.
Mr Loughton said he had been assured by the then equalities minister and education secretary Justine Greening that she would back such a move.
But the equalities brief was handed to the Home Office when Ms Greening quit the cabinet in Theresa May's cabinet reshuffle - and Home Secretary Amber Rudd insisted on including a review of the current laws, said Mr Loughton.
He blamed the "excessive caution" of Home Office officials for "raising questions as to why you can't do it rather than finding ways of making this happen".
The Conservative MP said ministers may be forced "kicking and screaming" into reinstating his plans to extend civil partnerships to mixed-sex couples later in the Bill's passage through Parliament - if the Supreme Court rules against the government at a case due to be heard in mid-May.
Rebecca Steinfeld and Charles Keidan lost a bid to secure legal recognition of their relationship in a civil partnership last February but have been granted permission to take their case to the Supreme Court.
---
What is entailed in a civil partnership?
Legal and financial protection for both parties in the event of the relationship ending
It is free of the religious connotations of marriage
Some object to marriage as an institution and its associations with property and patriarchy
---
In a joint statement, issued by the Equal Civil Partnerships campaign, the couple said: "We have been overwhelmed by the level of support for our campaign to provide access to legal and financial protection to the 3.3 million unmarried cohabiting couples in the UK who stand to benefit.
"We call on the government to rule out now the option of the abolition of same-sex civil partnerships and to use Tim Loughton's bill to legislate as matter of urgency to extend civil partnerships to all."
The UK government has previously said it did not intend to consult further on the future of civil partnerships or to change the law after two reviews, but Mr Loughton's bill is set to herald a fresh look at the issue.
A Home Office spokesman said: "We are proud that we introduced marriage for same-sex couples and that they are finally able to celebrate their relationship in the way other couples have done for centuries.
"It is right that we evaluate the demand for civil partnerships before we make changes to the law.
"We continue to keep this under review and are assessing the demand for civil partnerships amongst both same-sex and opposite sex couples."