Prime Minister's Questions: The key bits and the verdict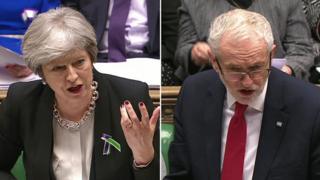 Theresa May and Jeremy Corbyn have gone head-to-head at Prime Minister's Questions. What happened?
Jeremy Corbyn pulled off one of his trademark moves - bringing up a subject that few expected. With Brexit, trouble on the railways and Theresa May's future dominating the chat at Westminster he decided to put her on the spot over rising crime. She is the former home secretary after all.
The exchanges threatened to turn into the sort of dry trading of statistics we have seen from the two leaders on the NHS.
Jeremy Corbyn said crime was going up and the police were starved of resources. Mrs May claimed it was going down and police budgets had gone up. They were using different sets of stats. Mr Corbyn was referring to recorded crime and the PM was using the Crime Survey for England and Wales, a face-to-face study of victims' experiences.
Reality Check: What has happened to police numbers?
The Labour leader then quoted HM Inspector of Constabulary to back up his point that the thin blue line was at breaking point.
The Labour leader tried a different tack - what about the chief constables saying they were at crisis point? And the rise in violent crime, particularly gun crime? Mrs May said thanks to changes she made as home secretary more vulnerable people had the confidence to report domestic violence and modern slavery so recorded crime was going up.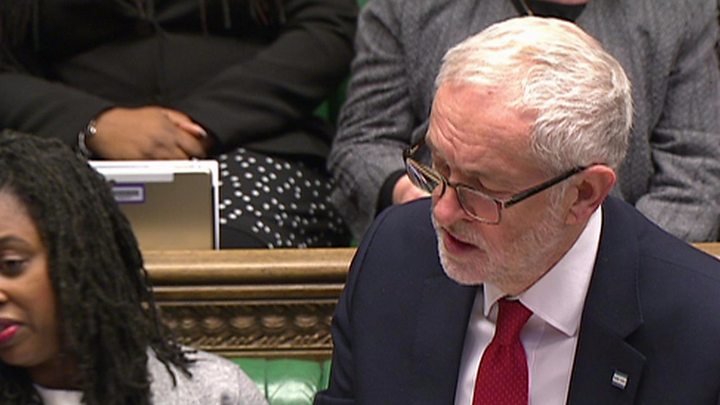 Mr Corbyn accused the PM of cutting "both the prevention and the cure" by privatising the probation service and cutting youth worker jobs.
Mr Corbyn then turned to unlikely inspiration in the form of Tory backbencher Philip Davis, who had said the "first duty of government is to keep people safe" something Mr Corbyn suggested they were not doing. Mrs May went on the attack against what she said was the Labour leader's record of supporting more lenient sentences.
Mrs May always gets the last words in these exchanges and, as usual, she used them to take a swipe at Labour's economic policies. She claimed that a Labour government would wreck the economy and mean less money for the police.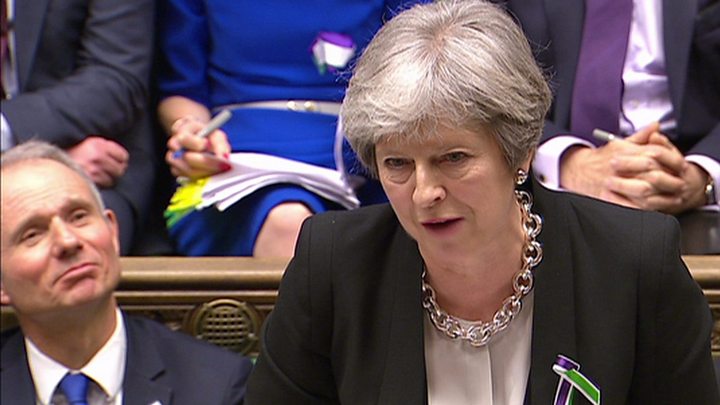 What else came up?
Full marks to the SNP's leader at Westminster Iain Blackford for persistence - this was the fourth time he had raised bank branch closures at PMQs, getting very short shrift from Mrs May every time. He had some good news this time - 10 Royal Bank of Scotland branches have been saved from closure. He again called on the PM to take the issue seriously.
Dennis Skinner - known as the Beast of Bolsover for his take-no-prisoners-style - turns 86 on Sunday.
But he was far from pleased to be reminded of this by Speaker John Bercow, claiming that he didn't know it was his birthday, before growling: "I don't believe in celebrating age." He then delivered the kind of angry, impassioned question on the NHS that has made him such a favourite with Labour colleagues over the years (Mrs May also wished him a happy birthday).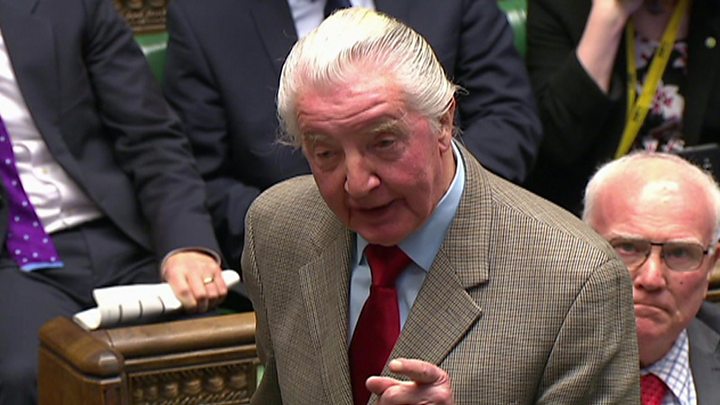 Conservative right-winger Philip Davis seemed pleased to get a name check from Mr Corbyn, saying there was "clearly hope for him yet".
Lib Dem MP Layla Moran asked about homelessness.
Veteran Tory Euroscpetic Sir Bill Cash attempted to stiffen the PM's resolve in the next round of Brexit negotiations.
And finally, Sir Vince Cable got a question. The Lib Dem leader asked if the government would stop American firms being given the right to grab a slice of the NHS in trade negotiations with the Trump administration. Mrs May gave her former cabinet colleague a courteous but non-committal reply without mentioning the NHS once.
The Verdict
Here is Daily Politics presenter Andrew Neil's take on the session:
Here is what BBC Parliamentary Correspondent Mark D'Arcy made of it:
No stumbles. No embarrassments. No damage. The PM sailed through question time unscathed. Jeremy Corbyn complained about police cuts. Ian Blackford hailed his own leadership in stopping RBS branch cuts. And Sir Vince Cable, rather pointedly not called by Mr Speaker until almost the end of the session, demanded an assurance that the NHS would not be opened up to US contractors in some future trade deal. He set perhaps the most subtle trap, and while the PM didn't fall into it, nor did she offer any reassurance…. We will hear more of this.
Brexit Committee Chair Hilary Benn followed up with a question on post Brexit border controls - a thorny issue which extracted the first note of irritation from the PM, but again there was a minimalist, defensive answer.
This prime minister doesn't bite back very much, bar the most boiler-plate party political answers. It's safety first and last - and very hard for her questioners to penetrate. But remember the kind of (twice) weekly excruciation John Major faced from Tony Blair… every PMQs saw a deadly soundbite which salted Tory political wounds.
Jeremy Corbyn's talents lie elsewhere; Mrs May is fortunate that effective Commons theatre is not his speciality.
What pundits are saying on Twitter
And if podcasts are your thing don't miss this...