MPs launch inquiry into real fur being sold as fake fur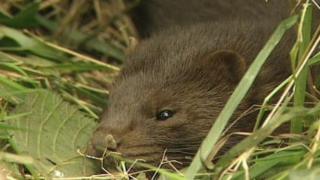 MPs are to examine reports of an increase in sales of fake "faux fur".
Fur farming has been banned in the UK since 2000 but imports of fur from some animals, such as fox, rabbit and mink, are permitted under tight controls.
The Commons Environment Committee said it wanted to find out who was behind a spate of cases of real fur items being passed off as faux (fake) fur in shops.
It will also examine current laws relating to the fur trade and what changes, if any, Brexit may bring.
An investigation earlier this year by the charity Humane Society International found that a number of leading High Street stores were unwittingly selling fake fur clothing that actually had its origins not in synthetic fibres, but in a variety of real creatures.
"Retailers have a duty of care to their customers who have the right to know what they are buying," Neil Parish, the Conservative MP who chairs the committee, said as he announced the inquiry.
"Our inquiry will determine where responsibility lies for the increase in illegal fur sales and identify the steps that need to be taken to stop it in its tracks."
Among other issues, the cross-party committee will look at whether labelling of fur and faux fur products can be improved and how this would be enforced.