Why English courts are opening in the EU
By Tom Moseley
Political reporter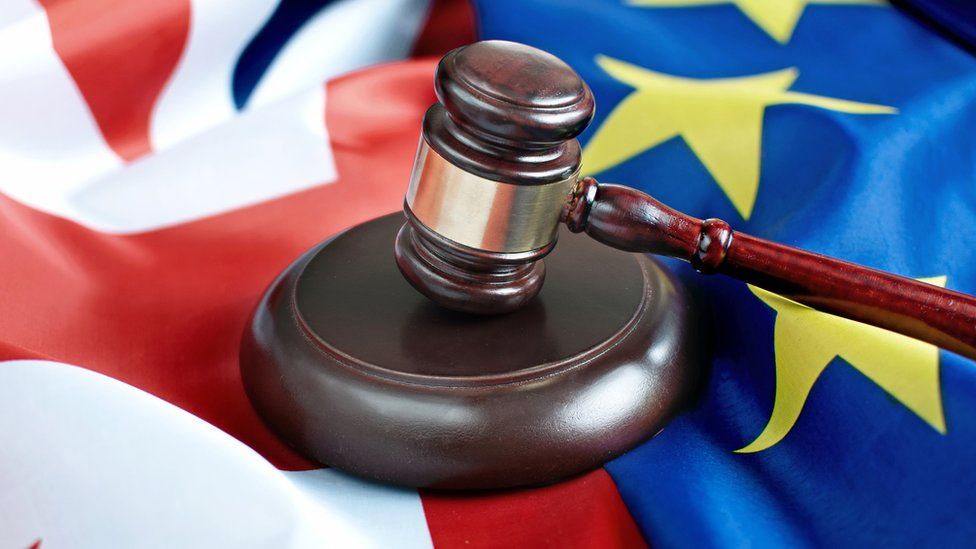 It's English law, in English - but the courtroom is in Paris.
According to French reports, the new "international chamber" is an attempt to capitalise on Brexit and steal London's crown as a global hub for lucrative commercial legal disputes.
Other English-language courts are popping up in the Netherlands, Germany and Belgium, with those behind them also talking about seizing opportunities from the UK's departure from the EU.
English courts have long been chosen by companies based all over the world to govern their contracts. So are these new rivals a threat to London's crown?
French justice minister Nicole Belloubet, who tweeted an English "welcome" at the formal signing of the new chamber earlier this month, said in December that the UK's exit from the EU could mean it losing access to a "common judicial space" with the attractiveness of London courts "replaced by other European jurisdictions".
And the head of the Paris Bar, Marie-Aimee Peyron, has said that in light of Brexit, the French capital's new appeals court could help it become the world's commercial law centre.
As the planned Brussels International Business Court was announced in October, Belgium's Prime Minister Charles Michel described the UK's departure from the EU as an "opportunity" for his country.
This court will offer companies the chance to settle cross-border disputes in English, although only using Belgian law.
"The development of the European Union cannot be slowed down by Brexit," Mr Michel added.
Meanwhile, announcing an English-speaking court in Frankfurt in November, its president, Wilhelm Wolf, spoke of attracting business from English courts to his city, claiming English judgements would become harder to enforce after Brexit.
This would be bad news for the UK's legal sector, which says it is worth £26bn to the economy.
"While it's starting fairly small it could have rapid repercussions," says Conservative MP Bob Neill, who is chairman of the Commons Justice Committee.
"It is an interesting trend and it's something that if you are concerned about the health of UK legal services PLC, one ought to be alert to."
Key to the warnings about London losing its crown is an EU regulation that allows judgements in one member state to be enforced across the bloc - and which Mr Neill's justice committee says needs to be replicated "as closely as possible" after Brexit.
Otherwise, rulings made in London may not be automatically recognised in the EU - there could be extra paperwork, confusion about which jurisdiction should hear a case, and an overall loss of certainty.
Mickaël Laurans, of the Law Society of England and Wales, said that after Brexit businesses may face "additional procedural steps" if the EU regulation no longer applies.
This will depend on the negotiations between the UK and the EU - the UK has said it wants a "close cooperative relationship" with the EU's legal system after it leaves, but details have yet to be agreed.
Nonetheless, supporters of the English system are confident it will retain its crown.
"England and Wales's jurisdiction has a number of strengths which are completely independent of Brexit," said Mr Laurans, citing its "high quality judges who understand highly complex cases".
"Just having English language proceedings would not be enough to attract foreign litigants away from England and Wales," he predicted.
However, the French court - which opens on Thursday - will go further than than those in Belgium, the Netherlands and Germany by having the power to make rulings on English law.
This is an "an interesting phenomenon" which could be part of a "charm offensive" aimed at the City of London, Mr Laurans said.
"It's something to look closely at."
A spokeswoman for the French Embassy in London played down the relevance of Brexit in the decision to open the new facility, which will sit inside the existing Paris international tribunal.
It will allow people to address the court and submit documentation in English, with judgements translated from French into English, and judges trained in the English common law system.
"It's not really the context of Brexit, it's the context of what we call attractiveness. We want companies to feel at ease using English when they have commercial litigation," the embassy spokeswoman told the BBC.
"Of course Brexit has an influence and an impact on what's going on, but this was not a decision taken as a result of Brexit."
Last year the justice committee warned that failing to protect the UK's status as a "top-class commercial law centre" would have "clear impacts on the UK economy".
Sir Richard Aikens, a former Lord Justice who is president of the Leave-campaigning Lawyers for Britain group, echoed their sentiments but played down any possible impact of the Anglophone French courtroom.
"I do not expect it to be any kind of threat," he told the BBC, adding that the judges would not have been trained in English law, which he described as "predominantly the commercial law of the planet".
The "real question", he said, is what will replace the aforementioned Brussels regulation allowing judgements to be enforced throughout the EU, with the role of the European Court of Justice likely to be a sticking point.
MP Bob Neill - who comes from the other side of the Brexit debate - agrees.
"It is an issue that we have really got to take seriously," he said.
"I don't think it's getting enough attention."
In a paper in August, the government set out its desire for a "new civil judicial cooperation framework, as an aspect of the deep and special partnership with the EU".
Ministers have also said that "an effective system of cross-border judicial cooperation with common rules is essential to embed certainty and predictability for businesses particularly for those with a commercial aspect".
But like many things, how this will work will be thrashed out over the negotiating table in the months to come.