EU leaked paper discourteous, says David Davis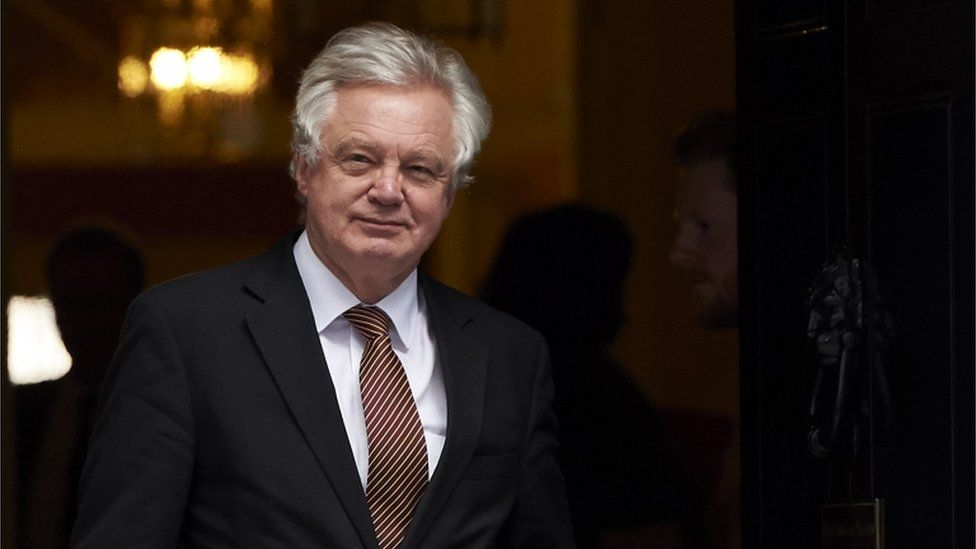 David Davis has described a leaked EU paper suggesting it could cut UK access to the single market if there was a post-Brexit row as "discourteous".
A draft document leaked on Wednesday suggested any dispute could mean UK benefits being suspended in the "transition period" after Brexit.
The UK Brexit secretary said it had not been "in good faith" to publish it.
He also said every economic forecast about Brexit had been "proven wrong so far".
Official forecasts out earlier suggested it would mean a slowdown in growth across the UK.
Mr Davis was speaking after the prime minister chaired meetings of the Brexit cabinet committee, aimed at sketching out what the UK wanted its future relationship with the EU to look like.
He said the atmosphere had been "very constructive" and there had been "lots of things resolved" but admitted there was "still progress to be made".
He described the draft section of the withdrawal agreement that leaked out on Wednesday as "hardly a legal document, it was a political document".
"What we're about, is building an implementation period which is to build a bridge to a future where we work well together," he said.
"I do not think it was in good faith to publish a document with frankly discourteous language and implying that they could arbitrarily terminate in effect the implementation period.
"That's not what the aim of this exercise is. It's not in good faith. We think it was unwise to publish that."
The transition - or implementation - period is expected to begin straight after the UK officially leaves the European Union, on 29 March 2019, and end on 31 December 2020.
The UK says this will allow businesses to adapt to its new relationship with the EU.
The EU says its rules should still apply during the transition period, as will rulings of the European Court of Justice.
According to a footnote in the EU papers leaked to journalists in Brussels, if referring a dispute to the EU court during that period took too long, the withdrawal agreement "should provide for a mechanism allowing the union to suspend certain benefits deriving for the United Kingdom from participation in the internal market".
Mr Davis was also asked about UK officials' economic forecasts that model the 15-year impact of the UK:
staying in the single market
doing a trade deal with the EU
leaving without a deal
The government agreed to show them to MPs, following a leak of some of the information to Buzzfeed last week.
The estimates suggested north-east England and the West Midlands would be hardest hit although others would also see a slowdown in growth.
But Mr Davis said: "Every single financial or economic forecast related to Brexit has proven wrong so far, massively wrong - all on the same side, all underestimating the progress of the economy.
"[The] second point is that this is a work in progress. This is not a complete policy document.
"You wouldn't drive a car that is half finished. You shouldn't use a forecast that is half complete."
A Downing street source said the prime minister had told the Brexit cabinet committee that her starting point was to aim for "something that hadn't been done before in order to come to a new relationship that will last a generation or more".
Meanwhile Italian MEP Roberto Gualtieri, who sits on the European Parliament's Brexit steering committee, said it was unlikely, during the transition period, that Britain would have to follow any new EU rules drawn up when it was no longer a member state.
He said it was unlikely there would be time for new legislation to be brought forward within the period - expected to be around two years - because of European Parliament elections in 2019 and the fact a new European Commission would not be in place until autumn that year.
David Davis says the UK will seek an "appropriate process" to object to any new laws introduced during the period.
But Mr Gualtieri said the UK was likely to have had its say as a member state on any new EU rules that come into force during that period.