John McDonnell: Labour public ownership plan will cost nothing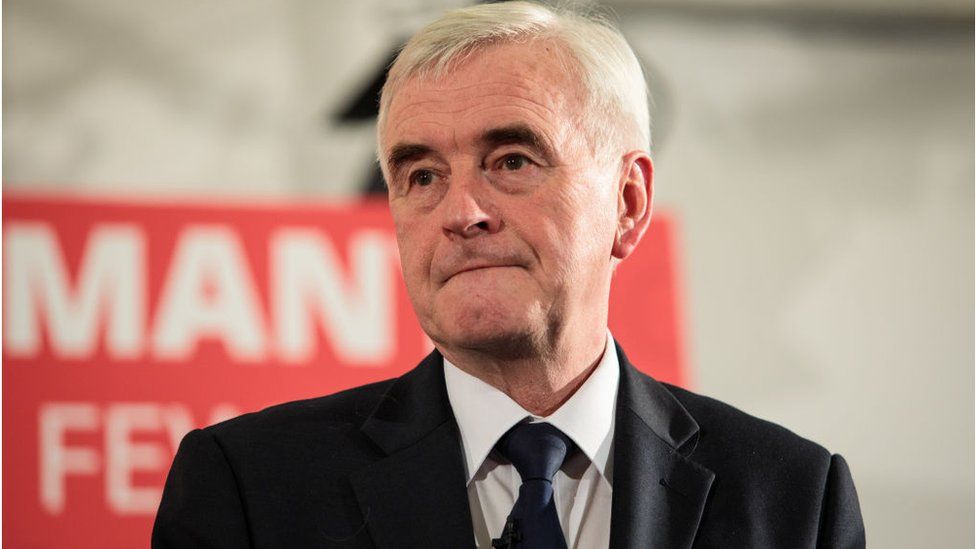 Labour's proposal to bring services such as water, energy and rail into public ownership would be "cost free", John McDonnell has said.
The shadow chancellor says he wants to put public services "irreversibly in the hands of workers" so they can "never again be taken away".
In a speech in London, Mr McDonnell said privatisation had failed.
However, the Conservatives said his plan would cost taxpayers billions of pounds and lead to worse services.
Earlier, Mr McDonnell told BBC Radio 4's Today programme taking services into public ownership would not ultimately increase the burden on taxpayers because government bonds could be swapped for shares in a revenue-producing company.
"It would be cost free. You borrow to buy an asset and when that asset is producing profits like the water industry does, that will cover your borrowing cost," he said.
You might also be interested in:
But Mr McDonnell said utilities could be managed more efficiently under public ownership, because they would no longer have to fund dividends for shareholders.
"They've given out £18bn of dividends to their shareholders - sometimes they've actually given out more in dividends than they've made in profits," he told the BBC.
In his speech to Labour's Alternative Models of Ownership conference, Mr McDonnell said the best way to protect public services for the long term was for them to be owned by the public.
He said: "The next Labour government will put democratically owned and managed public services irreversibly in the hands of workers and of those who rely on their work."
Public services could be made more responsive and effective by bringing together the people who use them, workers and expert managers, the shadow chancellor said.
He said: "We aren't going to take back control of these industries in order to put them into the hands of a remote bureaucracy, but to put them into the hands of all of you - so that they can never again be taken away.
"Public ownership is not just a political decision, it's an economic necessity.
"We'll move away from the failed privatisation model of the past, developing new democratic forms of ownership, joining other countries, regions and cities across the world in taking control of our essential services."
Analysis: How the nationalisation plan could work
by Joe Lynam, BBC business correspondent
It's not unusual for private companies in trouble to do a "debt for equity swap". To save the business, those investors who own shares (equity) lose everything, and those investors who own the company's less risky bonds (debt) get those shares.
Swapping government debt for private company shares is unusual though. In theory, the Treasury could issue new government bonds - known as gilts - and hand them over to the private owners of water or electricity companies. That would then make taxpayers shareholders in the utility in question.
But all the existing contracts would continue in force. So salaries and bonuses would have to be honoured, as would contracts with all other private sector suppliers. The new owners (taxpayers) would also need to retain experienced staff to do often very specialised work. If those skilled staff thought they'd earn more in the private sector, that may be an issue.
Treasury Chief Secretary Liz Truss said: "Labour would put politicians in charge of running everything from the phone lines to electricity supply, meaning people have nowhere to turn when things go wrong. That didn't work last time and won't work this time."
And UK business group the CBI said Labour's calls for nationalisation would "wind the clock back on our economy".
Its managing director for people and infrastructure Neil Carberry said: "If Labour turns its back on good collaboration between the government and the private sector, public services, infrastructure and taxpayers will ultimately pay the price."
In the speech, Mr McDonnell also announced the creation of a working group to look at how co-operatives can grow, expand and access funding, including the possibility of giving employees a greater right to own shares in the company they work for.