Brexit: Ministers to unveil what EU relationship they want for UK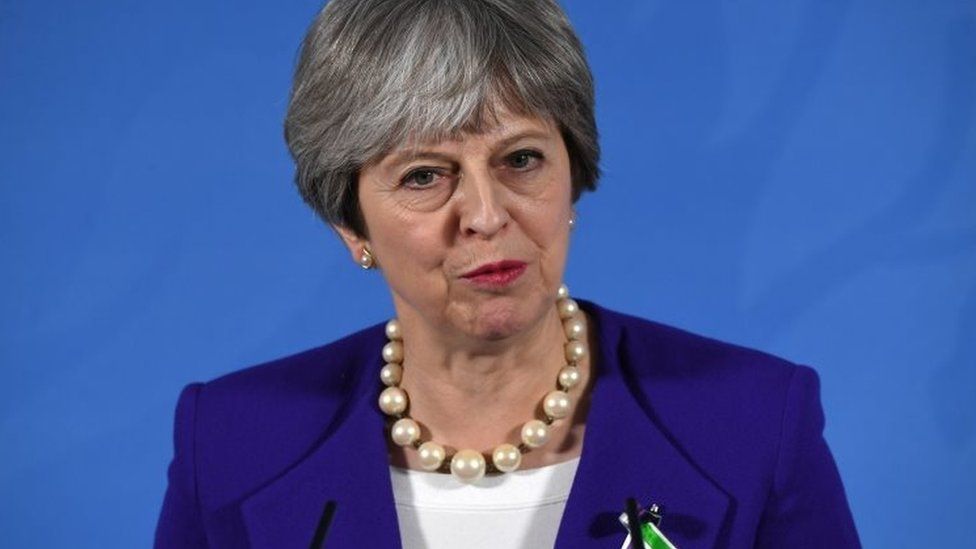 Theresa May will deliver a major speech within the next three weeks outlining the future relationship Britain wants to have with the EU.
Before that, senior ministers are also due to give speeches in a campaign dubbed "the road to Brexit" by No 10.
Security, the devolution of powers, workers' rights and trade are to be covered.
The PM has been under pressure from Brussels and her party to set out her vision for Britain after Brexit.
International Development Secretary Penny Mordaunt, who was a leading Leave supporter, said: "What the public want is, they want the vision and they want some meat on the bones."
Her comments came as Tory rebel Anna Soubry warned Mrs May pro-European Conservatives could join forces with Labour to prevent the UK from leaving the single market and customs union.
Asked if there was a Commons majority to defeat "the kind of Brexit the prime minister wants", Ms Soubry told the BBC's Andrew Marr show: "If she's not careful, yes."
Asked if she thought Brexit will definitely happen, Ms Soubry, who was appearing alongside pro-Europe Labour MP Chuka Umunna, said: "I genuinely don't know what is going to happen."
Theresa May is set to make two key note addresses in the coming weeks, and arch Brexiteers Boris Johnson, David Davis and Liam Fox will also set out their agendas.
Senior ministers are due to hold talks at the prime minister's country residence Chequers, and soon after that Mrs May is expected to set out her vision.
The foreign secretary will begin the series of speeches on Wednesday and insiders say Boris Johnson will be seeking to unite Remainers and Leavers, the BBC's political correspondent Iain Watson said.
Brexit Secretary David Davis and International Trade Secretary Liam Fox will also be heard from, along with Cabinet Office minister David Lidington, who backed Remain in the referendum.
But two prominent ministers who voted to remain - the chancellor and the home secretary - are not delivering speeches.
No 10 said Philip Hammond spoke recently in Davos, while the prime minister herself will in effect cover Amber Rudd's brief when she gives a speech on security on Saturday.
Mrs May will detail the "security partnership" the UK wants to maintain with the EU.
Justice Secretary David Gauke rejected suggestions ministers who favoured a softer Brexit were being silenced.
"He (Philip Hammond) is not part of the set of speeches that have been outlined today, but that doesn't mean that the Chancellor is not expressing his views both internally in the cabinet conversations, but also externally.
"So I don't think there is anything in this, that this is somehow a kind of plot to gag a particular faction of ministers, I don't think that's a fair characterisation at all," he told ITV's Peston On Sunday.
You might also be interested in:
He said "substantial" disagreements remained and he had "some problems understanding the UK's position".
Penny Mordaunt hit back at Mr Barnier's comments, telling Andrew Marr: "the other nations involved in this are very pragmatic and have not been impressed with some of the language that the (European) Commission has used".
Asked if it was a UK government "red line" to not have to grant full rights to EU migrants who come to Britain during a transition period, Ms Mordaunt said that was the government's position going into the next round of talks.