Young Labour: Row over access to equalities event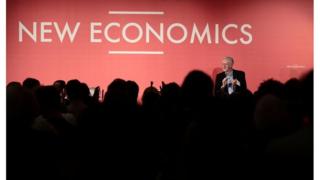 Labour has defended its decision to restrict access to an equalities conference to "disadvantaged groups".
The Young Labour event next month is open to under-27s who "self define" as women, LGBT+, BAME or disabled.
It said the main purpose of the event was to elect members to its national committee while giving people space to discuss the "obstacles" they faced.
But one Conservative MP hit out at the "lazy assumption" that "straight white men" cannot fight for equality.
The Equality and Human Rights Commission said that following a complaint about the matter, it was seeking an explanation from Young Labour about how it justified the "restrictions".
Now there is fresh controversy after Young Labour started selling tickets for a one-day national equalities conference but said it would restrict access to those who met defined criteria.
A Labour spokesman said there was "nothing new about spaces for people with protected characteristics meeting to discuss the inequalities and obstacles they face".
"The purpose of this conference is to ensure that members from disadvantaged groups are able to elect representatives to Young Labour's National Committee. All other positions on the committee are elected online, via a 'one member one vote' system."
In past years, Young Labour has selected all their committee members at an annual event, using caucuses to choose individual women's, disabled, LGBT+ and BAME representatives.
The party is moving to a new system of online voting for most positions on its national committee, including its chair, its representatives from the English regions, Scotland and Wales as well as its representative on Labour's National Executive Committee.
It is understood it cannot yet do this for the equalities representatives as it does not hold relevant information on the identities of members who would be eligible to vote and that is why the event is taking place.
Conservative MPs have taken to social media suggesting the exclusion of certain groups was a form of discrimination in itself.
But Labour activists have hit back, accusing their opponents of trying "to whip up a culture war".