Merkel 'curious not frustrated' after Theresa May meeting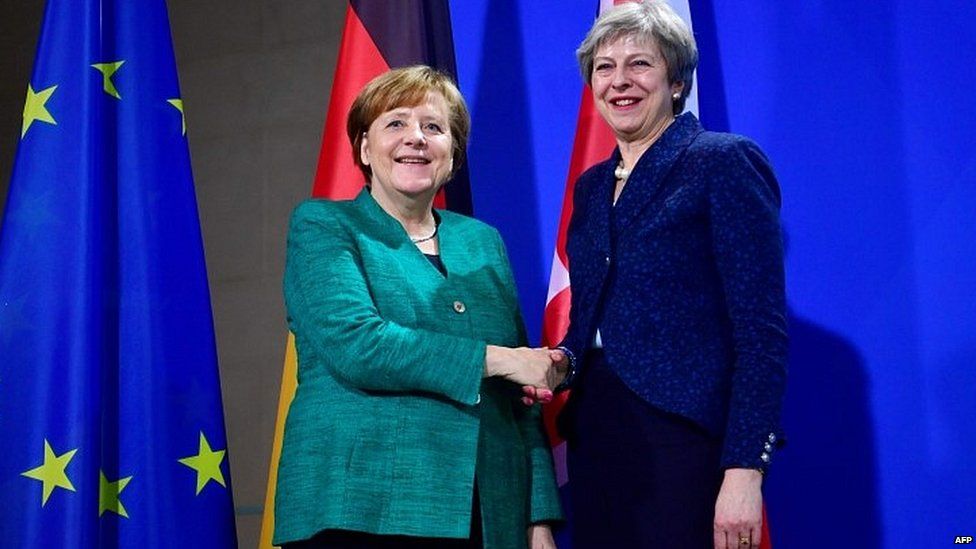 Angela Merkel has said she is "not frustrated" by the Brexit process but is "curious" to know more about the UK's aims after meeting Theresa May.
The German chancellor said she hoped to establish "common ground" on future trade goals in the coming months and wanted a "close partnership" of equals.
Mrs May said she wanted a "bold and ambitious" trade partnership as well as a new security arrangement with the EU.
But amid calls for more UK detail, she said it was not a "one-way street".
Friday's meeting between the two leaders at Berlin's Chancellery comes ahead of a speech on Saturday in which Mrs May will set out the "security partnership" she envisages with European partners at the annual Munich Security Conference.
British ministers are making a series of speeches mapping out the "road to Brexit" to counter criticism of a lack of clarity and contradictions in their vision of the UK's future relationship with the EU once it leaves in March 2019.
Asked whether she was frustrated by the UK's position, Mrs Merkel said: "I'm not frustrated at all. I'm just curious how Britain envisages this future partnership and obviously we also have our own vested interests as regards, for example, economic commitments."
She added: "We would like to preserve this close partnership and maybe both sides, in a way, are in a process of learning and trying to find out where we find common ground."
Asked about the possible trade relationship the UK could expect with the EU, she said the partnership would not be as close as it currently is, but that this did not mean "cherry picking" from the UK side would be required in what she anticipated would be a "very complex set of negotiations".
Analysis by the BBC's Ben Wright
Who knew Chancellor Merkel had such good comic timing? She wasn't "frustrated" by the lack of clarity from the UK she was (slight pause, raised eyebrow) "curious".
A masterpiece of wry understatement. Before the prime minister's trip to Berlin, the German government said it hoped the UK would produce "concrete" plans for Brexit soon.
But if Theresa May did flesh out her thinking in talks with Angela Merkel, neither leader was letting on. Their post-meeting remarks were courteous and warm but heavy on platitudes and light on detail.
Mrs Merkel said there could be a close economic partnership between the UK and the EU that did not amount to "cherry picking" all the benefits of single market membership without the costs.
This will have encouraged Theresa May who said EU firms would benefit too. But for negotiations to move on, Theresa May's divided cabinet needs to hammer out a collective position on what it's asking for after the transition period expires.
Angela Merkel isn't the only politician curious to discover the answers.
Mrs May said she was seeking a "future economic partnership" that suited both sides, and for British and German companies to have the maximum possible freedom to operate in each other's markets.
The UK prime minister's trip to Berlin comes as the UK and the EU attempt to agree details of the temporary "transition" period that will come immediately after Brexit day and is intended to smooth the path to the permanent post-Brexit relationship between the UK and the EU.
Speaking after the last round of talks, EU chief negotiator Michel Barnier said "substantial" disagreements remained and he had "some problems understanding the UK's position".
On Wednesday, Foreign Secretary Boris Johnson attempted to appeal to Remain supporters, urging people to unite behind his vision of a "liberal Brexit".
The British government, meanwhile, has offered to extend guarantees on EU citizens' rights after Brexit to the 20,000 Norwegian, Icelandic and Liechtensteinian nationals living in the UK.
Citizens from the three countries - all members of the European Economic Area - living in the UK for the past five years will be able to apply for settled status on the same basis as nationals from the other 27 EU member states.
This would grant them permanent residency and largely the same access as now to healthcare, pensions and other benefits.
The UK hopes the offer will be reciprocated and will give similar assurances to the 15,000 British expats in Norway, the 800 in Iceland and 60 in Liechtenstein.
On the first day of the Munich security event, the heads of the three largest European intelligence agencies have made an unprecedented joint appearance to emphasise the necessity of international co-operation.
After holding talks, the head of Britain's MI6, Alex Younger, and his German and French counterparts issued a statement committing themselves to cross-border information sharing after Brexit to tackle international terrorism, illegal migration, nuclear proliferation and cyber attacks.
"Modern threats require a modern response. Any failure to do so would lead to even greater risk," they said.