Oxfam agrees to withdraw government funding bids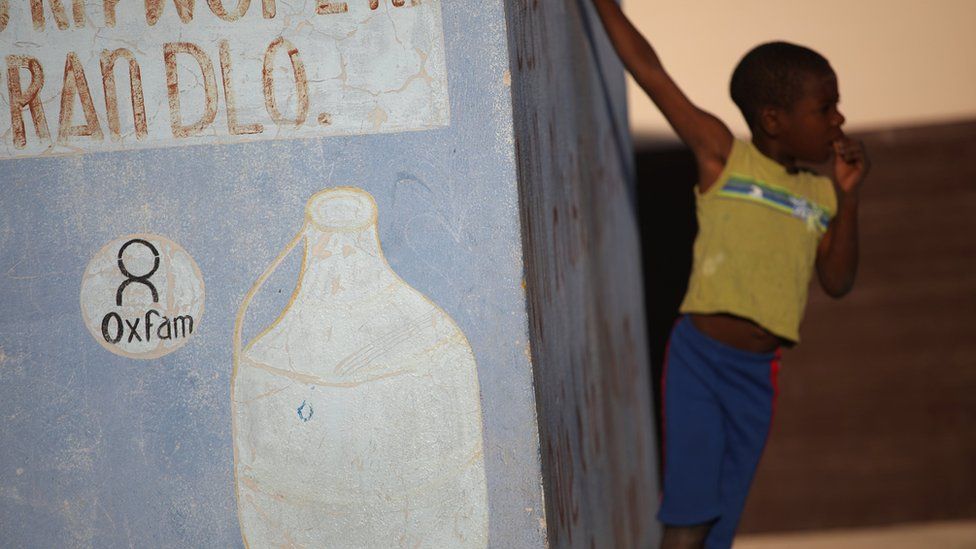 Oxfam has agreed to stop bidding for UK government funding until it can show it meets the "high standards" required, ministers say.
International Development Secretary Penny Mordaunt said the charity had "a long way to go" before regaining the trust of the public, its staff and the people it aims to help.
Oxfam has faced criticism over the way it handled claims staff hired prostitutes in Haiti in 2011.
It has apologised and promised reforms.
In the wake of the allegations, the charity's deputy chief executive resigned and some celebrity backers, such as actress Minnie Driver and Archbishop Desmond Tutu, severed their ties with it.
However, others have said they will continue to support its work, including actor Simon Pegg and members of the Eavis family, who organise Glastonbury Festival.
The charity, which had a total income of £409m last year, received £31.7m from the government in 2016. This is about 8% of the charity's income.
The amount also represents about a quarter of a percent of the government's annual foreign aid spending.
In a statement, Ms Mordaunt said that following a meeting with Oxfam bosses on Monday, the charity "has agreed to withdraw from bidding for any new UK government funding until DfID (the Department for International Development) is satisfied that they can meet the high standards we expect of our partners".
She said hundreds of "good, brave and compassionate" Oxfam staff had been poorly served by the leadership, adding: "Clearly Oxfam have a long way to go before they can regain the trust of the British public, their staff and the people they aim to help.
"The actions and attitude of the organisation over the coming weeks will be critical."
Ms Mordaunt said she had made three demands of Oxfam - that it makes clear how it will handle any future allegations, that staff members involved are reported to their national governments and that it cooperates with the Haitian authorities.
"Oxfam has now confirmed that they have complied with all of these points," she said.
In other developments on Friday, Oxfam International's executive director Winnie Byanyima said the charity would "do justice" and "atone for the past" by setting up a commission to investigate past and present allegations of exploitation by staff.
She invited victims to come forward "for justice to be done" for them, saying she was "here for all the women who have been abused".