'We're on our way,' says 96-year-old expat votes campaigner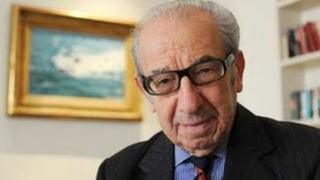 A 96-year-old war veteran is celebrating after his campaign to get the vote for all British expatriates moved a step closer to success.
Harry Shindler, who lives in Italy, said he had cracked open a bottle of wine as MPs approved the second reading of a bill to remove the 15-year limit on UK expats voting in elections.
"We are really on our way now," he told BBC News.
"I am coming up on 97 - we are going to get this in before 100."
Extending votes to all expats with no time limit is a Conservative Party manifesto promise from the 2017 election.
But it is being introduced into law as a private member's bill, sponsored by Conservative MP Glyn Davies.
'Good job'
Mr Shindler, who is a member of the Labour Party, said he was "very proud" of the British political system, after losing a number of court battles over the years.
"They have done a good job, without making party politics come into it," he said.
The Second World War veteran has lived in Italy for 35 years but gave up the chance of Italian citizenship to fight his campaign for expat votes.
Labour MP Sandy Martin attempted to block the legislation by speaking for 45 minutes, saying "15 years is actually a very reasonable amount of time" for people to be able to vote once they've left the UK.
He also suggested the bill had been downgraded to a private member's bill because the Conservatives found it "embarrassing" to extend the vote to people who have "chosen not to pay their taxes in this country".
But Conservative backbencher Sir Roger Gale said Mr Martin should meet Mr Shindler, to explain to him why he, as a proud Briton, shouldn't be allowed to vote.
"I want Harry Shindler and those millions of expats like him, who are proudly British, who take a keen interest, who regard it as their mother country...I want them to have that right", said Sir Roger.
Lib Dem MP Layla Moran also spoke in support of the bill, saying British people abroad are "every bit as British as the people in this room" and they have "lost their voice" because of "outdated" notions of what it is to be British.
The bill passed to committee stage unopposed.