Amber Rudd's warning over fighting against IS
By Emma Vardy
BBC News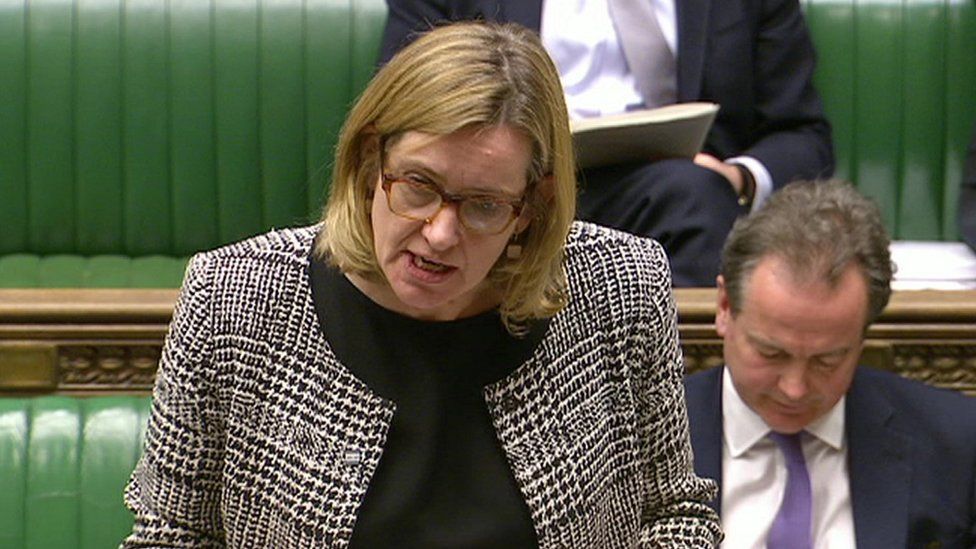 Home Secretary Amber Rudd has issued a warning in parliament over British citizens who have fought in Syria against so-called Islamic State.
She said "no individual" from the UK can fight with a foreign militia.
Her comments came in response to a question about a case involving a British man who is facing prosecution.
Ex-soldier James Matthews became the first Briton to be charged under anti-terrorism laws, having fought with the Kurds against so-called Islamic State.
In Parliament, Labour's Ben Bradshaw - the MP for Mr Matthews' sister - raised the case.
He asked: "How does it give the public confidence in the government's anti-radicalisation and anti-terrorism strategy for the former British soldier James Matthews, who fought alongside our Kurdish allies against ISIS in Syria, to be prosecuted for terrorist offences?"
Mrs Rudd responded: "I understand that there are concerns about the level way in which the government are approaching this.
"No individual from this country can go out and fight with another person's army or terrorist organisation in order perhaps to promote their own way of life.
"We have to be very clear and even-handed about this."
Since 2015 dozens of British volunteers have fought with the Kurds in Syria and Iraq to help recapture IS-held territory.
Amber Rudd's comments are believed to be the first time the UK government has provided some clarification about the way the Home Office views the legality of their actions.
Speaking to the BBC, Mr Bradshaw said he was "appalled" by the decision to prosecute Mr Matthews.
He said: "It cannot be in the public interest to prosecute, as a terrorist, someone who was supporting our allies, the Kurds - and with UK air support - against ISIS.
"James is clearly not a terrorist and poses no threat to the British public. The justice secretary should intervene in this case before it brings our justice system into disrepute."
Mr Matthews' sister, Abby Stapleton, said her brother was a "brave, principled man".
An online petition has gathered nearly 5,000 signatures opposing the terror charge.
Mr Matthews is next due to appear in court at the Old Bailey on 1 March.
He is pleading not guilty to the charge of having attended a place where training was provided for purposes connected to the commission or preparation of terrorism.