Row over racist Max Mosley by-election leaflet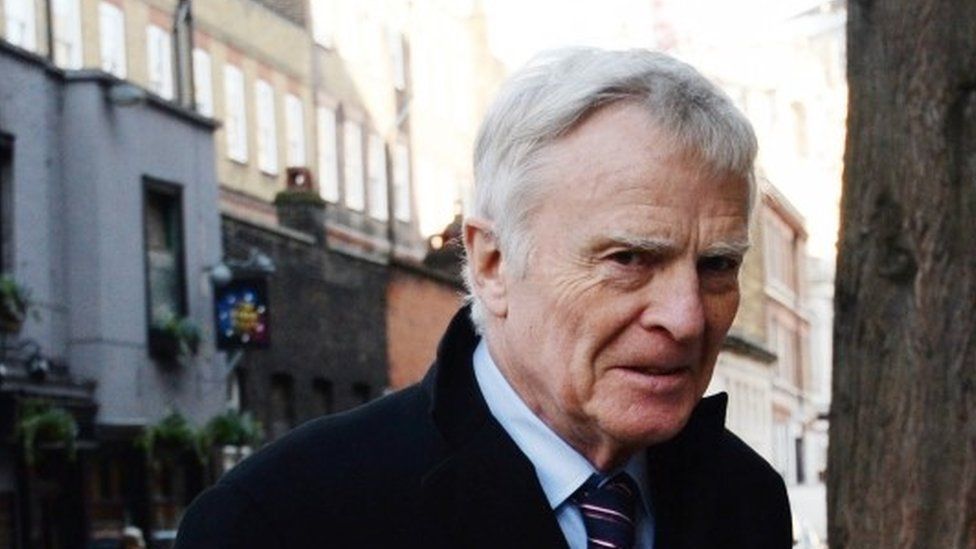 Privacy campaigner Max Mosley published a by-election leaflet saying: "Coloured immigration threatens your children's health," it has been claimed.
The newspaper says it raises questions over Mr Mosley's evidence to a 2008 High Court trial.
Mr Mosley said he didn't recall the leaflet and he was not a racist.
In evidence to the 2008 trial, in which he successfully sued the News of the World over reports about a sado-masochistic sex session he had had with five prostitutes, Mr Mosley denied any knowledge of the leaflet.
He said he had challenged lawyers for the the now-defunct Sunday tabloid to produce the document in court, "which they failed to do".
"I obviously would not have done that if I knew of its existence," he told the Press Association.
"My record in motor-sport demonstrates that I do not tolerate racism and, like most people, my political views have changed over time."
The leaflet, which says it was "published by Max Mosley", includes the warning: "Protect your health. There is no medical check on immigration. Tuberculosis, VD [venereal (sexually transmitted) disease] and other terrible diseases like leprosy are on the increase. Coloured immigration threatens your children's health."
It also states that "if enough people vote for me in this election, the government... will be sending coloured immigrants home, instead of bringing more in" and urges voters to "let us give the coloured people a fair deal by sending them back to good jobs and good wages at home in Jamaica".
Asked about the line "Coloured immigration threatens your children's health," Mr Mosley said: "I think that probably is racist, I will concede that completely."
But he said he had "no reason to apologise to anyone", adding: "This was a statement in a leaflet which I am not even sure is genuine, which would never reflect my view, it would not reflect my view then or now because I simply wouldn't dream of insulting people."
He told Channel 4 News: "If that leaflet is genuine, I am responsible for it and it shouldn't have been issued".
But he said: "I have never been a racist. I am not a racist, never will be a racist."
He was also quizzed about whether he was a "fit and proper person" to be funding the office of Labour's Deputy Leader, Tom Watson, which has received £500,000 from Mr Mosley.
"Why should I not support Tom Watson, who is probably one of the most honest and courageous politicians we have got?" he said.
In a statement to the Daily Mail, Mr Watson said: "My views on press regulation are well known and have not changed.
"The views expressed by Max as a young man are not the views he holds now, just as the Rothermere family [owners of Associated Newspapers, the publishers of the Daily Mail] no longer uses its newspapers to support fascism."
Mr Mosley has campaigned for tighter press regulation since the News of the World wrongly reported his sado-masochistic sex session had been "Nazi-themed", and has donated funds to press regulator Impress.
He is also attempting to use data protection laws to delete references to what he calls this "private party" and what he says are inaccurate references about his relationship to Impress.
He told the Press Association he would "continue to campaign for the vital reforms needed to protect ordinary people against the bullying of newspapers like the Daily Mail".