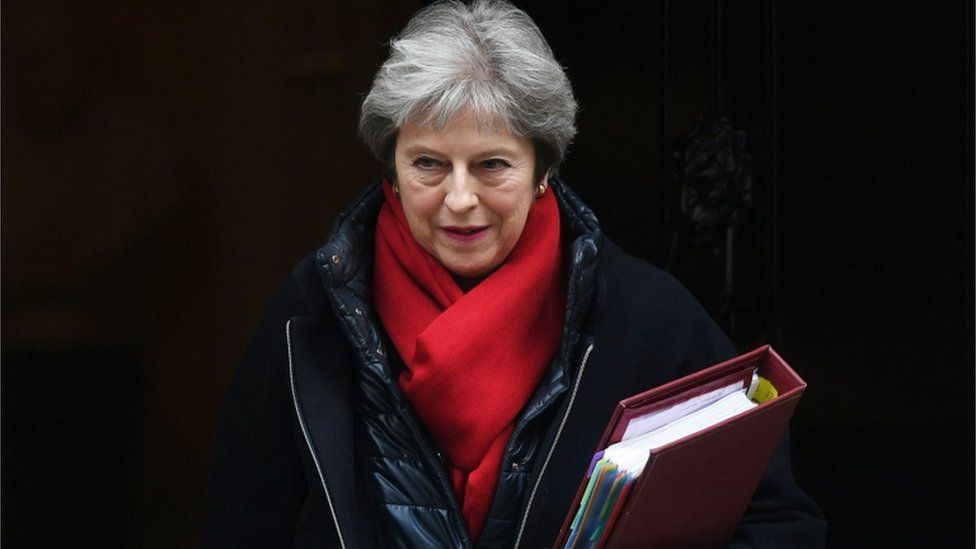 Fed up with the same old arguments? Feel like every day's news is a repeat of the clashes between Leave and Remain from 2016?
Surely not, readers of this blog, who, I'm sure, trace every twist and turn with enormous enthusiasm? (OK, maybe not every single day).
Well, on Friday, cabinet ministers and Number 10 hope that it will feel like things are finally moving on.
After more than a year of the UK government being accused of aiming for an unrealistic shopping list from Brussels, hoping for lots of cake and eating every last crumb, on Friday - to employ the exhausted metaphor - a member of the Cabinet told me it will feel like "Theresa May being honest with the public", complete with some "hard truths".
For the prime minister there are two priorities.
The first, to show the European Union that what she wants is credible, that despite all the Tory infighting, the different demands from various factions in her party, that she gets it.
"We know what we want and we understand your principles, we have a shared interest in getting this right," she'll say.
For months on the EU side there has been hunger for more acknowledgement from the UK that we cannot have everything and keep all the benefits of the EU membership that we fancy, with none of the cost.
To that end, I understand that there will be much more than just language that promises a sense of realism but detail, including proposals potentially to keep associate membership of various European agencies in sectors of the economy like aviation or the pharmaceutical industry.
One minister said: "We will have to abide by the rules to get maximum access" to the markets.
Politically that's impossible for Theresa May at home, without the other element of what sound like increasingly detailed proposals: The right to do our own thing after Brexit, and have that assurance spelt out explicitly when we leave.
It's expected the prime minister will outline more clearly her proposals for a system of independent arbitration so that the UK is no longer subject to the direct judgements of the European Court.
She will, it's said, rule out a situation where the UK has to follow EU law with no say, as a simple "rule taker".
We would theoretically therefore, have the right to choose not to be bound by EU rules where it doesn't suit.
There are still huge questions over whether this whole approach is acceptable to the EU at all. The broad aim of "managed divergence" has been pushed back many times.
But an admission from Theresa May that she won't get things all her own way could start to shift the dial.
With the EU's tone hardening in recent days, insiders say the UK needs to show some of the government's red lines can fade to pink, if there is to be real progress in the talks.
Will there be anything like the level of detail, or potential compromise spelled out that Brussels wants?
Will Mr Barnier's team suddenly determine that the UK's approach is now workable?
It is unlikely, surely, that one speech can suddenly transform the situation.
But senior figures in government are hopeful this will be a step forward, even if it is "incremental", as one minister described it, that can get the wheels moving again.
At the Cabinet meeting on Thursday every member present was invited to chip in their views, and Theresa May indicated that she would go away and perhaps make some final tweaks to the script.
What won't change, even if a few of the phrases are sharpened or softened up, is the second priority she is trying to achieve.
Alongside the message to the EU, is a message to the country.
It's not just in the Conservative Party that the debate over Brexit has been brutal. Whether online or in real life, the tone has often been ugly, words and accusations hurled around like confetti, MPs being sent death threats, a passionate coarseness to the debate.
Surely for most people, however they voted, that's not just divisive and unpleasant, but a total turn-off.
In the speech therefore, the prime minister will try to bring the country together, to move on from those important, but tired arguments between Leave and Remain.
I'm told she'll emphasise her commitment to the union too, and you're unlikely to lose a bet if you guess that she'll evoke her first big speech on the steps of Downing Street, her hope to use the referendum as a moment for bigger social change for the country.
There is a danger of course with any "big speech", that has been much anticipated, much discussed before a word has been uttered.
Can it live up to its billing? Will it be heard as the prime minister intends it?
Don't expect any new details or solutions to the Irish border, or the clamour for the customs union.
The EU and Theresa May's opponents may well still feel irked that she has not untangled what they see as contradictions.
But Number 10 hopes the speech will make a difference, and allow the fraught negotiations to move to the next phase.