Theresa May says UK can 'set example to world' in Brexit deal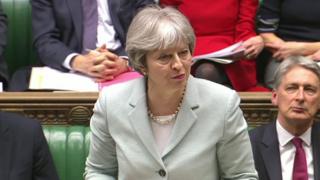 The UK can "set an example to the world" in the way it negotiates a new relationship with the EU after Brexit, Theresa May has said.
In a statement to Parliament, the PM said the task would be "complex" but a deal was in both sides' interests
She insisted she would not allow Brexit to disrupt "historic progress" made in Northern Ireland through a hard border.
But Labour leader Jeremy Corbyn said the UK's objectives were "no clearer" after "20 wasted months".
"This government is nowhere near delivering a good deal for Britain," he said.
Mr Corbyn said the UK's proposed solution to avoiding the return of physical infrastructure on the Irish border, based on what he said was a "mixture of goodwill and technology", was no more than blue-sky thinking.
He also questioned the UK's chances of agreeing a free trade deal with the US in light of President Trump's recent announcement that he wanted to impose tariffs on steel and aluminium imports.
Updating MPs on her vision for the UK's future economic relationship with the EU - which she outlined in a major speech on Friday - Mrs May said a comprehensive free trade deal was in both sides' interests.
"We cannot escape the complexity of the task ahead. We must build a new and lasting relationship while preparing for every scenario," she said.
"But with calm, pragmatic and patient discussion, I am confident we can set an example to the world."
She said she was absolutely clear there would be no return to a hard border on the island of Ireland after the UK leaves on 29 March 2019.
But equally she said the UK could not accept the border effectively being moved into the Irish Sea - which critics say is what will happen if Northern Ireland remains in the customs union.
Mrs May said the UK was close to reaching agreement on a transition deal and again ruled out a second referendum, saying she would deliver for the British people by making a "success of Brexit".
Former Tory leader Iain Duncan Smith praised the PM's leadership and said the UK should not accept it could not have the exact deal it wanted, telling MPs "cake exists to be eaten and cherries exist to be picked".
But Mr Corbyn said Mrs May "could not bring certainty to British business and workers" because of what he said was cabinet infighting and the Conservatives' "ideological crusade" to shrink the size of the state.
He suggested Theresa May was seeking to dilute workers' rights and other social protection while tying the UK permanently to EU state aid rules "enforcing privatisation and blocking support for industry".
"We've seen set-piece speech after set-piece speech and yet the prime minister still cannot bring clarity to these negotiations and still cannot bring certainty to British businesses or workers.
"The prime minister's speech on Friday promised to unite the nation, but it barely papered over the cracks in her own party."
On Ireland, he said the issue was not just about cross-border trade and paperwork but preserving the peace between different communities that has lasted for more than 20 years.
Several Conservative MPs have been critical of Dublin's approach to the negotiations but Chancellor Philip Hammond, speaking later on Monday, said the Irish government "could not have been more helpful" in trying to reach agreement on the border issue - within the parameters of its EU membership.
He told the Commons European Scrutiny Committee that Parliament would ultimately have the freedom to move away from EU rules in certain areas should it choose but that any decision to diverge would be "deliberate" as the UK and EU would start their post-Brexit relationship in almost complete alignment.