Prime Minister's Questions: The key bits and the verdict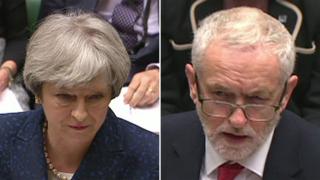 Theresa May went head-to-head with Jeremy Corbyn in the House of Commons. Here's what happened.
The Labour leader went for a double-header this week - starting with a call to end arms sales to Saudi Arabia before switching, rather abruptly, to an attack on the government's "shameful" record on rough sleeping.
But the exchanges got off to an unusual start with the PM accusing Mr Corbyn of "mansplaining", after he reminded her that tomorrow was International Women's Day. Mrs May, a self-declared feminist, gave him a hard stare that would make Paddington blush.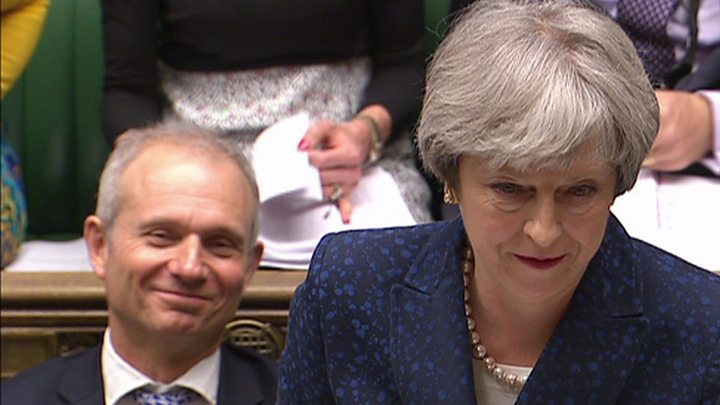 The visit of Crown Prince Mohammed bin Salman to the UK gave the Labour leader a chance to get stuck into one of his longstanding concerns - human rights abuses in Saudi Arabia. Would the PM be raising them "when she makes her arms sales pitch" to the Saudi leader? Mrs May gave a robust defence of the UK's "historic and important" links with Saudi Arabia, which she claimed had saved "hundreds" of lives in the UK through counter-terrorism co-operation, but added: "I will raise human rights concerns with the Crown Prince when I meet him later."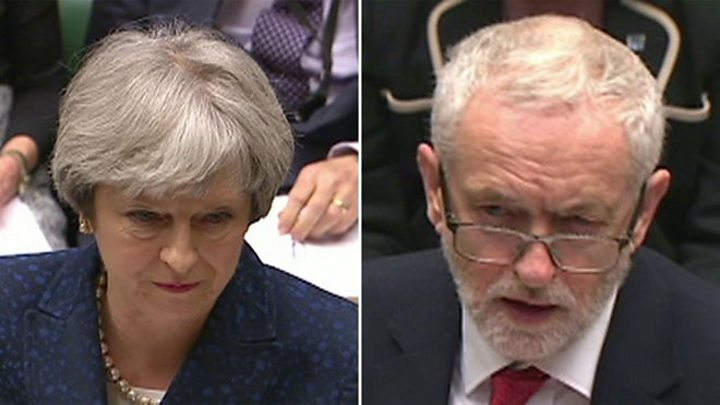 Mr Corbyn accused the government of "suppressing" a report into the funding of extremism in the UK - and called for the suspension of UK arms sales to Saudi Arabia, highlighting the "humanitarian disaster" in Yemen he said had been caused by "Saudi-led bombing and a blockade". He called for an urgent ceasefire and even accused the UK government of "colluding with war crimes".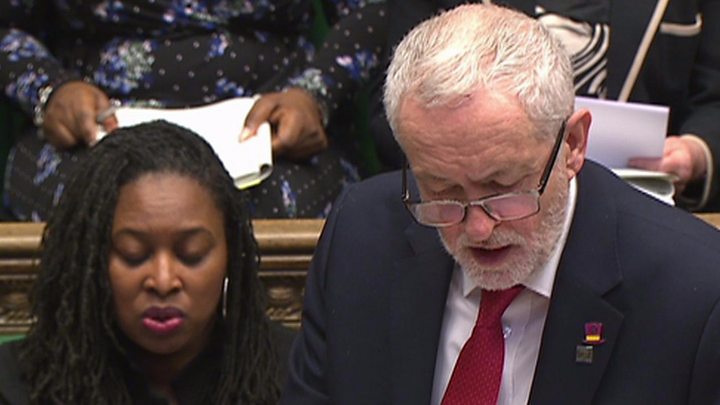 The extremism funding report had not been published because of "personal content", said the PM, but senior MPs on the Privy Council could take a look at it. As for Yemen it was down to "all parties" in the conflict to "ensure humanitarian aid got through".
Mr Corbyn continued to press for an "urgent ceasefire" in Yemen - and then switched to a question about why rough sleeping had "doubled" under the Conservatives. It wrong-footed Mrs May, who had quite a bit more to say about arms exports to Saudi Arabia, including some quotes from Shadow Foreign Secretary Emily Thornberry, who, she seemed to be suggesting, had supported her position in an interview with the Today programme this morning.
As for rough sleeping, the government was pouring "millions" into the problem, she claimed.
There was a small moment of triumph for Mrs May as Mr Corbyn told her that a rough sleeping task force set up 2010 had never met. "It met today," she informed the Labour leader with a smile.
Mr Corbyn continued, accusing the government of lacking ambition in the face of a "crisis" that was "a mark of national shame", throwing in a quote from Barry, who volunteers at a homeless shelter in Southampton, who, like him, believed government cuts were to blame.
Mrs May said it wasn't just about money or holding meetings - the government was running "48 projects" to tackle rough sleeping - before rounding off with a quote from Mr Corbyn who had once apparently said Labour's policies on homelessness had caused "misery and despair".
What else came up?
Iain Blackford surely deserves some kind of medal for sheer bloody-mindedness. The SNP's leader at Westminster raised the issue of Royal Bank of Scotland branch closures for the fourth time at PMQs, only to receive exactly the same reply from Mrs May - it was a "commercial decision" by the bank.
Speaker John Bercow was on form, issuing a bizarre-sounding rebuke to a Labour MP.
The PM got a supportive question on Saudi Arabia from Aldershot Conservative MP Leo Docherty.
The Verdicts
Here's what the BBC's Andrew Neil and Laura Kuenssberg made of it:
And here is BBC Parliamentary Correspondent Mark D'Arcy's take on it:
Maybe it's the lack Tory of blowback from her big Brexit speech last week, but whatever the reason, Theresa May seemed more confident and less careworn at the dispatch box, today.
And maybe Jeremy Corbyn's line of attack was just too predictable….The International Women's Day line about the PM raising women's rights issues between pitching for arms sales with the visiting Crown Prince of Saudi Arabia was effective, but was trumped by her "mansplaining" riposte. It clearly delighted her backbenchers, and whether it was pre-prepared or an ad lib, it set the tone for the remainder of her exchanges with the Labour Leader.
Nor will Mr Corbyn have enjoyed being countered with quotes from his own shadow foreign secretary and close-ish ally, Emily Thornberry, when the subject moved on to the wider UK relationship with Saudi Arabia. In fact, several moments in this PMQs highlighted the efficiency and effectiveness of her behind the scenes preparation for these appearances.
Another example was the PM's answer to York Labour MP Rachael Maskell. She parried a question about rising homelessness in York with a rebuke to the local council, saying it had failed to produce a local plan which would allocate land for more housing. So gold stars to the Downing St PPSs, Seema Kennedy and George Hollingbery, and the team behind them.
Mr Corbyn's best moment came when he asked about rising homelessness - but he did not score heavily in the ensuing policy joust. Nor did the SNP Leader Ian Blackford, when he raised branch closures by the state-owned RBS, for the third week running. This produced a patient, even weary, explanation that ministers did not second guess commercial decisions.
When backbenchers got their chance - in a 48 minute PMQs today, more than half the time was absorbed by the front bench exchanges - there was an example of an increasingly important function of this occasion.
Increasingly, select committee chairs have realised they can enlist government support for their activities - the question from the Environment, Food and Rural Affairs Committee chairman Neil Parrish, about the concerns raised by the big joint inquiry into air quality won a sympathetic response from Theresa May.
This was a more sure-footed prime minister; but it is too soon to suggest her points victory in this particular bout portends a more lasting ascendency.
PMQs remains a contest between two, at best, middling Parliamentarians.
What pundits are saying on Twitter
And for the podcast fans among you...