John McDonnell: Ministers 'must wake up' to austerity misery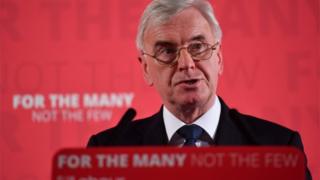 The shadow chancellor has said the government must "wake up" to the impact of austerity policies, accusing them of being blind to people's "misery".
John McDonnell highlighted the rise in rough sleeping and council job cuts in a speech in London.
He said "whatever positive nuggets" come out of official economic forecasts in the chancellor's Spring Statement, any boasting would be "misplaced".
The government said Labour would "let debt spiral out of control".
Chancellor Philip Hammond is due to deliver his Spring Statement on Tuesday, which will set out updated UK economic forecasts.
The Office for National Statistics reported in February that UK borrowing for the year to date was at its lowest level since January 2008.
It emerged last week that the day-to-day deficit had been eliminated - two years later than former chancellor George Osborne had wanted when he set it in 2010.
But Mr McDonnell said growth was lower than any major economy, real wages were still falling and that "abstract national figures don't show us the real impact of austerity and economic failure".
'Pain and misery'
"This is a government still committed to the austerity spending cuts the Tories first announced in June 2010," he said.
"They seem absolutely blind to the economic evidence and the pain and misery they have caused."
Mr McDonnell said schools were sending "begging letters to parents for pens and pencils" while children were being taken into care because councils cannot afford early intervention programmes.
He referred to the death of a homeless man outside Parliament and said public services were understaffed and "stretched to breaking point" because of cuts.
"Labour are outlining our demand on this government to wake up to the scale of suffering that austerity is inflicting on our communities and the underlying damage being done to our economy," he said.
But the government said its "balanced approach" was working and meant there was more money to spend on public services, with councils getting £830m extra next year, while dealing with debts.
Exchequer Secretary Robert Jenrick said: "Labour don't know how to handle the economy and would let debt spiral out of control.
"That would put our economy at risk, mean higher taxes, and spending more on debt interest instead of public services."
Chancellor Philip Hammond has decided to end the system of there being a Budget and a financial statement which was effectively a "mini-Budget" each year.
The Spring Statement, unlike most recent Budgets and Autumn statements, is being delivered on a Tuesday rather than taking the high-profile slot straight after Prime Minister's Questions on a Wednesday.