Anti-Semitism: Labour 'failing to take responsibility'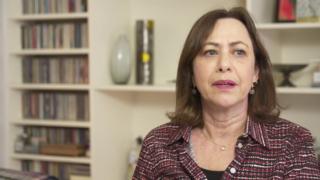 A former member of the Labour Party who resigned over its handling of an anti-Semitism complaint says the party is failing to tackle the problem.
Michele Grant told the Victoria Derbyshire programme it took the party 16 months to expel a man who posted anti-Semitic material online.
"I feel that the party has not taken responsibility for rooting out anti-Semitism," she said.
Labour said it expelled the man once due process had taken place.
Ms Grant's comments come days after Jewish leaders expressed concerns about the rise of anti-Semitism in the Labour Party, accusing leader Jeremy Corbyn of not doing enough to address it.
On Monday, Mr Corbyn acknowledged anti-Jewish prejudice had surfaced and it had been wrong for some people to dismiss it "as a matter of a few bad apples".
'Not on trial'
In May 2016, Ms Grant, a Jewish Labour Party member in Tower Hamlets, made a complaint about another member, Mossabir Ali, posting anti-Semitic content on social media.
Although he was suspended immediately, he was not expelled from the Party until 17 September 2017.
Ms Grant said that although the material posted on social media was self-evidently of the most virulently anti-Semitic kind, she was nonetheless asked to account for why she had brought the case to the party's attention.
At a hearing on the case held by the Labour Party's National Constitutional Committee (the body responsible for handling complaints inside the Party), Ms Grant says she was asked to explain why she considered the material to be offensive, and to describe her own Jewish background.
She told the Victoria Derbyshire programme that she "didn't see the relevance" of these questions, and that anti-Semitism should be offensive to all Labour Party members, not only Jews.
Ms Grant also said the person who posted the anti-Semitic remarks was given a chance to cross-examine her, which she considered to be entirely inappropriate.
She said she told the hearing, "I'm not prepared to be questioned in this way, I'm not on trial here".
Ms Grant also said that she sent three emails on the subject of anti-Semitism to her own MP, Rushanara Ali, but received no response.
'Personal feud'
She later received a letter from an official at the Labour Party thanking her for her evidence, saying that without it "I don't think we would have received that result," suggesting it would not have been able to expel Mr Ali purely due to the content he had posted online.
Ms Grant described how the Labour Party treated her complaint as a personal feud rather than as a clear breach of the Party's values and rules, which should have been handled without the need for her involvement.
She says the party was insufficiently proactive in the case.
"I feel that the party has made anti-Semitism my responsibility," she said.
"What I want, really, really desperately is for people to stop saying these kinds of experiences are just smears [against the Labour leadership] because they're not".
A Labour Party spokesperson said: "Mossabir Ali is expelled from the Labour Party. He was immediately suspended when the Party received this complaint, and was then expelled in line with our rules and procedures, after due process had taken place.
"The Labour Party takes all complaints of anti-Semitism extremely seriously, which are fully investigated and any appropriate disciplinary action is taken in line with our procedures. We are committed to challenging and campaigning against anti-Semitism in all its forms."
'Zero-tolerance'
Rushanara Ali MP said she "unreservedly and utterly" condemned all forms of anti-Semitism, adding that local party officers acted immediately after receiving her complaint.
"I have every sympathy with Ms Grant and I am very sorry that she did not receive a direct response. I can only apologise for any distress caused to her by this," she added.
Labour MP Jess Phillips, who has pledged to bring the case to wider attention inside the party, said she was appalled when she heard Ms Grant had been crossed examined by Mr Ali.
"I cannot imagine for a second that were a party member to be disciplined for using racial slurs against people of African-Caribbean or Asian heritage for example that they would be allowed to question the victims of such slurs," she said.
"I think the trouble with this approach to anti-Semitism is the belief that it can be somehow open to interpretation, it can't. We need to ensure that we have the same zero-tolerance attitude as we would with any racist comments."
Ms Phillips said she had raised the issue at the last meeting of the Parliamentary Labour Party and would do so again.
We attempted to contact Mossabir Ali for comment but had no response.
Watch the BBC's Victoria Derbyshire programme on weekdays between 09:00 and 11:00 on BBC Two and the BBC News channel.