Anti-Semitism row official Christine Shawcroft quits Labour NEC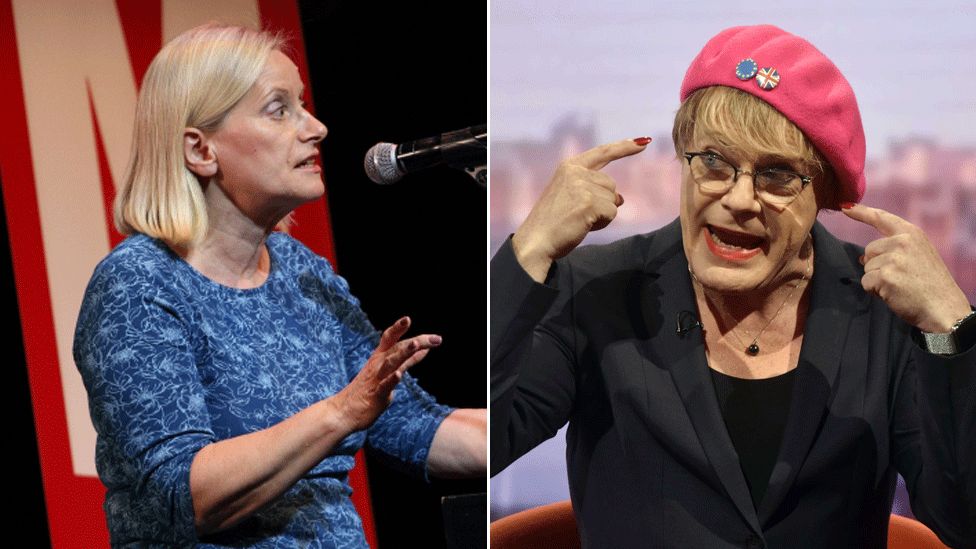 The Labour official at the centre of an anti-Semitism row has resigned from the party's ruling committee.
Christine Shawcroft said her membership of the NEC had "become a distraction for the party and an excuse for endless intrusive media harassment of myself, my family and friends".
Ms Shawcroft will be replaced on the NEC by comedian Eddie Izzard.
In a statement announcing her resignation on Saturday night, she said: "I reaffirm my complete opposition to anti-Semitism and my abhorrence of Holocaust denial, and support all measures to tackle this within the party."
She added that she would "pledge my full energy to securing for our country the Labour government under Jeremy Corbyn that it so desperately needs."
On Thursday, Ms Shawcroft - who is a director of the Corbyn-backing campaign group Momentum - resigned from another position as chair of Labour's disputes panel.
The furore over her defence of Alan Bull, who was standing in Peterborough in May's local elections, comes amid a wider row in which Mr Corbyn has been accused of failing to tackle anti-Semitism within his party - particularly within its left flank.
Analysis: By Chris Mason, BBC political correspondent
Christine Shawcroft is one of the most influential people in Jeremy Corbyn's Labour movement that - until this week at least - you had probably never heard of.
Her CV read like this: a director of the pro-Corbyn Momentum group, the head of Labour's disputes committee, and the occupier of a chair on the party's ruling National Executive Committee.
It's not quite so wordy any more. Two of those three jobs have gone.
In the last few days, she has become the focus of the noisy, bitter and very public row within the party about anti-Semitism.
I'm told that given her position on the NEC was elected, rather than appointed, it was her decision to stand down, but Jeremy Corbyn had spoken to her and supported her decision to go.
He had previously said he wanted to stand for the executive to "break down barriers" and make the party more welcoming to groups who feel "isolated or excluded".