Momentum says Labour 'failed' on anti-Semitism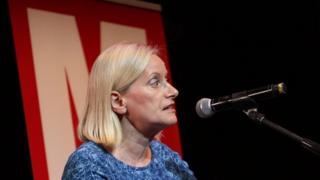 Momentum, the Labour movement backing Jeremy Corbyn, has said that anti-Semitism in the party is more widespread than it had understood.
It said in a statement: "Accusations of anti-Semitism should not and cannot be dismissed simply as right-wing smears."
It acknowledged the "upset and despair" of the Jewish community and the party's "failure" to deal with anti-Semitism.
The move came as the Labour leader promised "watertight" investigations into allegations of anti-Semitism.
The Labour leader told Channel 4 News: "We are not tolerating anti-Semitism in any form in the Labour Party."
He said the first task of the party's new general secretary, Jennie Formby, would be to appoint an in-house lawyer and ensure effective procedures were in place to deal with allegations of anti-Semitism.
A Jewish member of Labour's National Executive Committee, Rhea Wolfson, said she was "frustrated" at the pace of action to confront anti-Semitism.
But she welcomed the latest commitment.
"Jeremy has specifically asked her to make this her number one priority... so I think we'll see a speeding up of these changes," she said.
Analysis
By Eleanor Garnier, BBC News political correspondent
It's been a bad week for Labour.
Throughout, the party has condemned anti-Semitism and criticised those behind it - and Jeremy Corbyn has apologised for the hurt that has been caused.
This warning from Momentum, a left wing campaign group set up to support the Labour leader, is significant.
It follows claims from some of Mr Corbyn's supporters that allegations of anti-Semitism are a smear designed to damage him.
While Momentum's National Co-ordinating Group said anti-Semitism was a problem in parts of the Left, it also said that some of Mr Corbyn's opponents were opportunistically using the issue as a way to undermine his leadership - though it added that the action of others does not reduce the group's responsibility to challenge anti-Semitism.
But it will take more than words for Labour and Jeremy Corbyn to recover from the trouble the party has found itself in over anti-Semitism.
Mr Corbyn has faced demands to speed up investigations into a backlog of about 70 complaints of anti-Semitism, including one against former London mayor Ken Livingstone. He has previously apologised for the "hurt" caused by the failure to address cases of anti-Semitism.
The party has dropped one council candidate, Roy Smart in Tunbridge Wells, Kent, who was accused of sharing posts on social media urging followers to "question the Holocaust".
The statement from Momentum's National Co-ordinating Group acknowledges the failure to deal with cases in a "sufficiently decisive, swift and transparent manner".
Among those on the NCG is Christine Shawcroft, who quit Labour's disputes panel and the National Executive Committee after criticism of her opposition to the suspension of another council candidate, Alan Bull in Peterborough.
Mr Bull had been due to stand in the May local elections, but was accused of sharing an article on Facebook which claimed the Holocaust was a "hoax". He said he reposted the article for the purpose of debate and did not agree with it.
The NCH statement said: "Current examples of anti-Semitism within the Labour Party are not only a problem of a few, extreme 'bad apples' but also of unconscious bias which manifests itself in varied, nuanced and subtle ways and is more widespread in the Labour Party than many of us had understood even a few months ago."
While it suggested that Jeremy Corbyn's opponents may be "opportunistically using this issue as a way to undermine his leadership", that did not diminish "our responsibility to challenge anti-Semitism whenever and wherever it occurs".
The movement promised to explore partnerships for awareness training open to all Labour members, to back party initiatives against anti-Semitism and to push forward a programme of political education aimed at challenging conspiratorial thinking.
Momentum leaders also pledged to review its constitution and procedures and to support local groups in its aim of eradicating anti-Semitism and other forms of discrimination.