Free school meals are changing but will children lose out?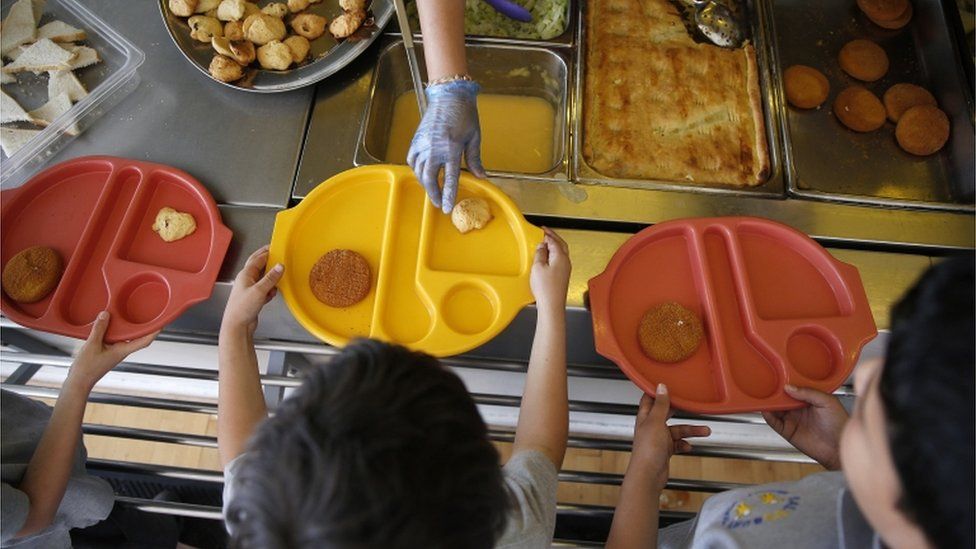 New analysis of how many children will benefit from free school meals under the government's Universal Credit system has been published.
The Institute for Fiscal Studies says that 50,000 more children overall will be entitled in future.
But the IFS also warned that 160,000 children across the UK, who would have qualified under the old system will be ineligible when the rules change.
So what are the changes and why is there a row?
Why are free school meals changing?
All children in reception, Year One and Two automatically qualify for free school meals in England and Scotland.
Eligibility for free school meals from Year Three is linked to benefits, and the system of calculating and claiming benefits is changing.
Six benefits including income support, jobseeker's allowance and child tax credit are being replaced by a single payment called Universal Credit.
Since Universal Credit began to be introduced in 2013, all children in Year 3 and upwards in households receiving the new benefit have been eligible for free school meals.
This meant some children who were not previously eligible for free school meals could claim them, particularly those in households receiving working tax credit and housing benefit.
The government has made clear the extension of free school meals was a temporary measure.
In February it announced that children in Year Three and above in England whose parents earn up to £7,400 a year would be entitled to a free school meal.
This threshold will be frozen until 2021-22.
At the time, the Education Minister Nadim Zahawi said: "Tens of thousands more children will be entitled to free school meals by 2022 compared to the previous benefits system."
Will any children lose their free school meals?
Labour claim they will, but the government are adamant that no child will have their meals taken away.
Labour's Shadow Education Secretary Angela Rayner said: "The IFS have revealed that one in eight children who were eligible before Universal Credit could find their meals taken away once the Tories' plans are imposed in full."
The government point to protections which mean every child currently receiving a free school meal will continue to do so while they are in primary school, until Universal Credit is fully rolled out.
Another reason the IFS suggests children could miss out is that the earnings threshold is frozen.
Their research suggests that if it were linked to inflation, up to 100,000 extra children might be entitled to free school meals by 2022.
But it is understood the threshold is based on calculations including forecasts of employment rates, earnings and National Living Wage projections.
What about the rest of the UK?
Universal Credit applies to the whole of the UK, but free school meals are allocated differently.
In Scotland a child is eligible if they live in a household earning up to £7,320, in Northern Ireland the threshold is more generous - you can earn £14,000 before losing eligibility.
Wales has not yet decided what to do about free school meals under Universal Credit.