How to spot child drug couriers campaign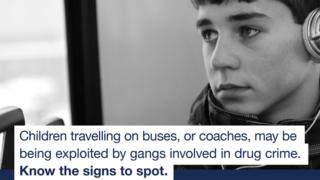 Bus drivers and train staff are being given tips on how to spot children being used as drug couriers.
The signs - highlighted on new posters - include not having a local accent and receiving "excessive" text messages.
Drugs gangs in big cities are expanding into rural areas and coastal towns to sell heroin and crack cocaine.
They use children to move drugs and cash between the new market and their urban base - a distribution model known as "county lines".
Analysis by the National Crime Agency (NCA) found that on a "conservative estimate", there are at least 720 county lines - named after the dedicated phone lines used by the gangs to distribute drugs - across England and Wales.
An NCA report, published in November, said: "County lines groups tend to use younger members to identify and target other children, either through personal or social media links.
"They focus on those who are particularly vulnerable or at a crisis point in their lives. They are groomed and enticed by gang members to work within the drugs distribution network."
The majority of children recruited by county lines networks are aged 15-17 and male, the report said, adding: "This is because they are less likely to be known to police and more likely to receive lenient sentences if caught."
The Home Office poster campaign comes ahead of a new strategy to crack down on knife and gun crime being launched on Monday.
It flags up possible warning signs for private security, taxi and vehicle hire staff as well as train, bus and coach workers.
Employees are urged to look out for children who are alone in a shopping centre or High Street or travelling during school hours, late at night or early in the morning.
"Some may be with older individuals who are purchasing tickets for them or giving them money for tickets. They could be receiving excessive texts or phone calls," says the poster.
"Are they deliberately avoiding authority figures such as police officers or security guards?"
The campaign literature adds: "If you see something that doesn't feel right, or looks suspicious, concerning a child or young person you should report it to Crime Stoppers on 0800 555 111."
A Home Office spokesperson told the BBC that the expected Serious Violence Strategy "will establish a new balance between prevention and the rigorous law enforcement activity".
"It will stress the importance of early intervention to tackle the root causes of serious violence and provide young people with the skills and resilience to lead productive lives free from violence," the spokesperson said.
County lines were highlighted by Labour MP David Lammy on Thursday, when he claimed police have "lost control" of drugs gangs in London, which was fuelling the rise in violent crime.