Chakrabarti: Time for Labour to tackle anti-Semitism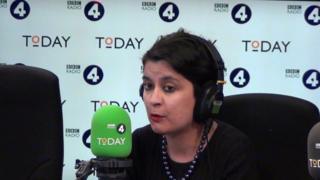 Labour officials have the "resources" to tackle anti-Semitism within the party, shadow attorney general Baroness Chakrabarti has insisted.
The peer implied to the BBC there was still a "serious problem", nearly two years after a report she wrote for Jeremy Corbyn urged action to address an "occasionally toxic atmosphere".
She accepted not all her June 2016 recommendations had been implemented.
But she said general secretary Jennie Formby had prioritised the issue.
Jewish groups, which demonstrated outside Parliament last month, have demanded urgent action - including the full implementation of the 2016 report - after a number of high-profile rows.
It is understood that Mr Corbyn will meet representatives from the Board of Deputies of British Jews and Jewish Leadership Council for talks on 24 April amid calls for investigations into cases of alleged anti-Semitism, including that of suspended former London Mayor Ken Livingstone, to be expedited.
Baroness Chakrabarti's 2016 investigation concluded Labour was "not overrun" by anti-Semitism, Islamophobia or other forms of racism but made a number of recommendations to confront what it found was clear evidence of "ignorant attitudes" among some party members.
These included procedural rule changes to improve the party's disciplinary process, the adoption and publication of a complaints procedure and the appointment of a general counsel to give advice on issues including disciplinary matters and to take responsibility for instructing external lawyers.
Asked if she conceded there was a "more serious problem" with anti-Semitism now than in 2016, Baroness Chakrabarti told BBC Radio 4's Today she thought "there was a serious problem at the time".
"But what I am glad to say is that I have spent some time in recent days with Jennie Formby and she shares my serious concern."
Asked as a shadow cabinet member whether she bore some responsibility for the fact her report had not been fully implemented, she said it was clear that further action was needed.
"I clearly have not, by myself, been able to achieve that. The new general secretary has the resources and has made this an absolute priority."
She added: "I think it is time to tackle some of the tropes that have been promoted on the left of politics as well as on the far-right of politics, particularly any confusion between anti-elitism and anti-Semitism. That really has to stop."