MPs announce hand car-wash 'slavery probe'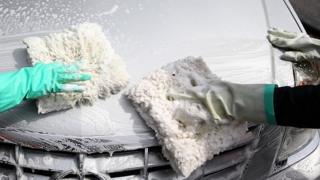 MPs are to investigate the growth of hand car-wash services in the UK, amid concerns they are damaging the environment and exploiting workers.
The Environment Audit Committee will examine the impact of cleaning agents on water sources, plants and wildlife and how water use can be minimised.
It will look at employment conditions, amid claims of trafficking of workers.
Mary Creagh, who chairs the committee, said though "cheap and convenient", the prices may be "too good to be true".
The Labour MP told the BBC much of their workforce was from Eastern Europe and there were concerns some of them were "bonded labour" - people who had been tricked into travelling abroad by the promise of a job and were now working in low-paid roles with little control over their working hours to pay off debts.
According to the Car Wash Advisory Service, there are between 10,000 and 20,000 hand car washes in the UK. Many are located on petrol-station forecourts or in busy car parks, and most are unregulated.
Ms Creagh said the investigation - prompted by the concerns of one of her fellow committee members - would "shine a light" on environmental and labour issues and claims of links to people trafficking.
Consumer confidence
She said the death of a Romanian man in east London in 2014 had highlighted concerns about how the industry operated.
Sandu Laurentiu was electrocuted while taking a shower in what police said were "dilapidated, cramped, rat-infested" living quarters beside the car wash where he worked in Bethnal Green.
The owner of the company was jailed for four years after pleading guilty to manslaughter by gross negligence.
Ms Creagh said the anti-slavery commissioner had expressed concerns about conditions in the industry, amid reports of workers being housed eight to a room and not being paid the minimum wage.
While consumers may value the service, she questioned when valeting companies in her Wakefield constituency commonly charged between £30 and £45 to clean a car, how anyone could wash a car by hand for just £5.
"We have environmental concerns, we have employment concerns, we have slavery concerns," she said.
"We are trying to get to a place where the public can have confidence that if they are using a hand car wash, they are not contributing to modern slavery. If it only costs a fiver, it may be a slave driver."
'Bad boys'
On the environmental side, the focus will be on examining how the industry is regulated in comparison with automatic car washes and whether providers could be using water more sustainably and doing more to prevent waste water, as well as dirt, oil and other contaminants, polluting rivers, streams and ground water.
Ms Creagh said she wanted to know whether companies were complying with rules requiring Environment Agency permits, how they were disposing of chemicals and if there were alternatives to highly intensive agents.
The Car Wash Advisory Service said many operators simply did not understand what was legally required of them, although there was a hardcore of about 8,000 "bad boys" that were engaged in criminal activities.
"The problem is right across the board, it is not just [the fault of] the hand car-wash firms," said its director, Dawn Fraser.
"The majority of firms do not pay a legitimate wage, but that is because it is just not being enforced."
An investigation by the Car Wash Advisory Service, in Nottingham in 2014, found most operators did not have planning permission, did not pay business rates and did not have permission to dispose of effluents through the sewers.
Earlier this year, the body launched a Wash Mark licensing scheme to help drivers identify wash sites that had been fully audited, complied with legislation and were not engaged in criminal activities.
And Ms Fraser urged MPs to support its rollout to "encourage the 70% of firms which want to be legitimate but do not know what to do and to close down those only there for money laundering and modern-day slavery".