Labour candidate Mandy Richards faces calls to stand down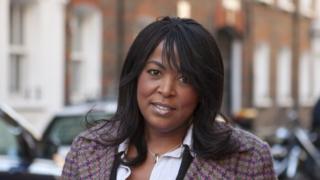 A Labour activist chosen by the party to fight the next general election is facing calls to stand down after making a string of controversial comments.
Mandy Richards, chosen last month to fight the Worcester seat, cast doubt on the evidence for the Manchester bombing and the murder of Labour MP Jo Cox.
She also claimed the security services had her under surveillance and were opening her mail because of her views.
She has insisted she is defending her rights and is not a "fantasist".
In a tweet, Ms Richards said those who made "such taunts" would rather "have women and black people suffer in silence".
But the city's former Labour MP, Michael Foster, has said Ms Richards must now withdraw while Labour MP for Barrow John Woodcock said the party needed to get "its house in order".
Worcester is a marginal seat which the Conservatives hold by a majority of less than 2,500. It was held by Labour between 1997 and 2010.
Ms Richards, a London-based former teacher and youth worker, was selected by the local constituency party last month to fight the next general election, scheduled for 2022.
She currently has two "extended civil restraint orders" taken out against her after a judge ruled that she had repeatedly sought to take a range of government organisations to court without due grounds.
Asked in a Facebook thread whether she had attempted to sue up to 20 organisations, she replied: "I asked them for the issues to be investigated. There was an inadequate response, hence the court action."
Ms Richards also reportedly wrote on Facebook that she could assure the Worcester party that the cases brought were "all above board".
It emerged on Monday that she questioned, in the aftermath of the Manchester arena bombing last year, whether the attack had even taken place - asking why no footage had emerged of damage to the building.
And after the death of the Yorkshire Labour MP Jo Cox in 2016, she also wrote on Twitter "glad someone's asking right questions about terror coverage. Jo Cox incident conveniently bereft of evidence too".
The Worcester Labour Party, which is expected to meet to discuss the issue in the coming days, has said its members were not aware of any of the court proceedings.
It is understood that Labour, which no longer vets its candidate nationally, believes it was Ms Richards' responsibility to declare relevant information during the candidate selection process.