Rudd breaks with May's Home Office approach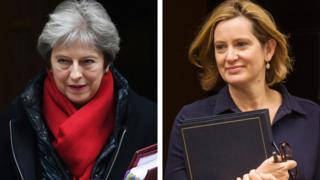 This has been a messy 24 hours for Marsham Street, the home of the Home Office building, with its rainbow glass panels and enormous airy atrium.
Government targets for removing people who don't have a legal right to live in the UK did not exist, according to the home secretary's political truth.
Then, late last night into this morning, there emerged a classic in the dictionary of spin: The non-denial denial.
Officials did not explicitly say they don't have targets, but said that decisions were not made "arbitrarily" to keep to any such numbers.
Then of course, as documents emerged that clearly showed there were indeed targets, the home secretary had no choice but to admit to the Commons that she had been wrong.
Less than two hours later, sources told us that the targets would be scrapped.
Those around Amber Rudd hope very much that she will "tough out" this mess.
Labour is naturally calling for her to go.
But there are not (yet) signs on the Tory back benches, or in government circles, that there is an appetite for her to resign.
After all, if ministers admit the problem is serious enough to merit a resignation and Ms Rudd departs, who else would be left to take the blame?
None other than the prime minister herself, who was in charge at the Home Office when the immigration rules were tightened up.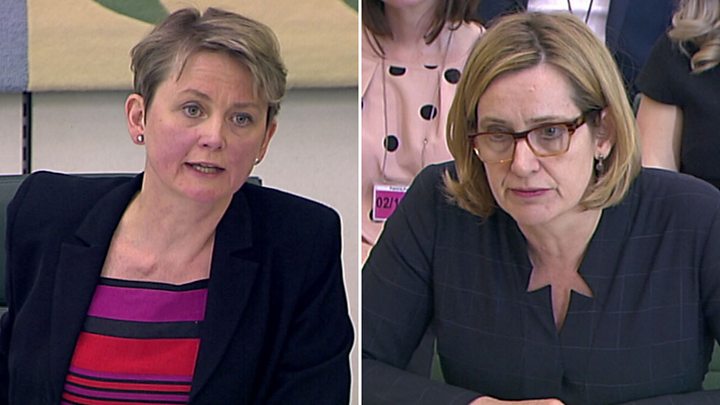 Ms Rudd's tenure at the Home Office seems secure at the moment, although her reputation has certainly taken a hit.
Forget the last 24 hours of messiness for a moment. What is remarkable is how the Home Office suddenly ditched the targets.
They were introduced under Labour and tightened up under the Tories to try to cut the numbers of people living in the UK without the legal right to do so.
Ministers believed then, and still now, that the public demand for tighter rules must be heeded.
It is remarkable then that, in less than 24 hours, the home secretary seemed to suddenly ditch that whole approach.
In the commotion, she has made a significant break with Theresa May's approach.
That throws up big questions, not just about how immigration will be managed in future, but also about what Ms Rudd's plans for the Home Office might really be.
It's understood that she is one of many cabinet ministers who is trying to persuade the prime minister to get rid of the government's overall immigration target.
Neither the row about deportation numbers, nor the Windrush generation's unfair treatment is a direct consequence of that.
But an argument is gathering pace at Westminster that the target, seen as unrealistic, put such pressure on the overall system that mistakes were made and people were treated too harshly, in the rush to keep the political promise.
I'm not for a second suggesting that somehow this row helps Amber Rudd's political career, or is anything other than hugely embarrassing.
But in politics, it's a mistake to waste a crisis.
Ms Rudd has the chance now, perhaps, to junk some aspects of her boss's ideas.
Without the Windrush fiasco and this subsequent mess, making an argument to change the Home Office culture would have been harder still.