Ex-Commons Speaker Michael Martin dies aged 72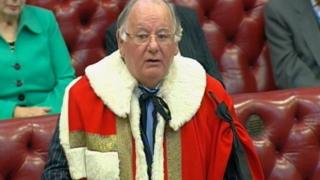 Former House of Commons Speaker Lord Martin of Springburn, has died aged 72, his family have said.
The ex-Labour MP, who represented Glasgow, "passed away peacefully" on Sunday morning after a short illness, his son Paul confirmed.
As Michael Martin, he was Speaker from 2000 to 2009 but resigned in the wake of the expenses scandal.
Labour leader Jeremy Corbyn said he was "very sorry" to hear of Lord Martin's death.
"Michael loved his community and family, our thoughts are with them at this sad time," he said.
Scottish Labour leader Richard Leonard said Lord Martin had been "an authentic working-class voice in Parliament".
"He never forgot where he came from, the community he served and the trade union movement, which gave him his education," Mr Leonard said.
In a statement, Lord Martin's son Paul said: "He passed away peacefully with his family.
"We would be grateful for our privacy to be respected at this difficult time."
Obituary: The 'public-spirited' man from Glasgow
By Brian Wheeler, BBC News political reporter
The son of a merchant seaman and a cleaner, Lord Martin of Springburn symbolised for many in the Labour movement the opportunities their party offered to working class people to rise above their origins.
Michael Martin was intensely proud of his Glasgow roots and the way he had overcome a difficult start in life to ascend to one of the highest ceremonial roles in the land.
His Glaswegian accent and background as a sheet metal worker and union official led him to be dubbed "Gorbals Mick" by some Conservative MPs and newspaper sketch writers.
In fact, he had been born in a tenement in the nearby Anderston area, on the north bank of the River Clyde.
Tributes to Lord Martin have been paid by friends and fellow politicians.
Current Speaker John Bercow said Lord Martin was a "decent, public-spirited man who had a real care and concern for members [of Parliament], their staff and the staff of the House".
He added: "He was a good campaigner and both passionate about and proud of his roots. He also had a great sense of humour.
"On a personal level, he was always very kind to me - I still remember the lovely letter of congratulations he sent to me after my election as Speaker.
"My deepest sympathies go out to Mary, his children and grandchildren."
Former Labour Prime Minister Gordon Brown said Lord Martin would be "sorely missed" and Scotland's First Minister Nicola Sturgeon said she was "very sorry" to hear the news.
Former First Minister of Scotland Alex Salmond called Lord Martin a "thoroughly decent man" and praised his "absolute fairness" as Speaker.
And Angus Robertson, former SNP Westminster leader, called Lord Martin a "kind and gentle man".
Glasgow Labour leader Frank McAveety said Lord Martin was "very proud" of his Glaswegian background.
Lord Martin - latterly Lord Martin of Springburn after the Glasgow constituency he represented from 1979 to 2005 - succeeded Baroness Boothroyd as Speaker in 2000.
From 2005 to 2009 he also was the Glasgow North East MP.
Lord Martin was seen as on the right of his party and a social conservative on matters such as abortion and homosexuality.
Following his appointment as Speaker, he held a news conference - provoking critics to say he had broken the convention of keeping a distance from the media.
He was the first Roman Catholic to serve in the role since the Reformation and he was not shy of disposing with other centuries-old traditions.
He did away with the tights worn by Speakers in favour of dark flannel trousers. He also continued the precedent set by his predecessor as Speaker, Betty Boothroyd, and did not wear the wig that had been traditional for previous incumbents.
He also appointed the first PR adviser to the House of Commons Commission.
By tradition, Speakers are elevated to the Lords, but the decision to grant Lord Martin's peerage was controversial.
As Speaker he came under fire for his own past expenses claims, but it was his reaction to the allegations against others that provoked criticism.
He told the Commons there should be a police investigation into the source of the leak to the Daily Telegraph, which broke the story of MPs expenses.