Local elections: Greens say they are 'England's fourth party'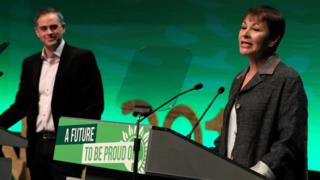 The Green Party defied expectations in a "David and Goliath" local election battle against larger parties, its co-leader says.
Caroline Lucas hailed results in target areas like Richmond-upon-Thames - where they gained four seats - and Sheffield, where they increased by two amid a bitter row about tree-felling.
Her co-leader Jonathan Bartley was one of four gains in Lambeth in London.
But the Greens lost five of their 10 seats in Norwich.
Afterwards, the Greens said they were established as "England's fourth party".
Across the 150 councils holding elections, the Greens ended with 39 councillors, a net gain of eight seats.
Its successes in Sheffield came at the expense of ruling party Labour, and it also added two new councillors in Trafford and one in Worcester.
Ms Lucas acknowledged her party had been "hurt" by voters moving to Jeremy Corbyn's Labour, saying that it was therefore "extraordinary" it had "done so well held our own and made some significant gains".
But she said she was "incredibly disappointed" to lose all five seats the Greens were defending in Norwich, blaming a "bit of a Corbyn surge" among younger voters.