Speaker John Bercow defiant after MP calls for debate on replacement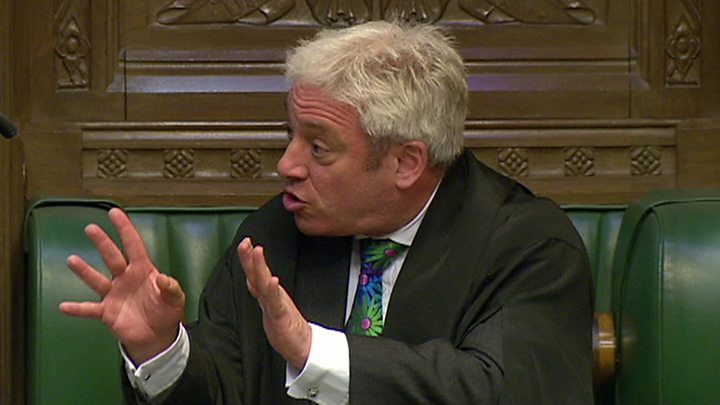 John Bercow has signalled his intention to stay as Commons speaker after an MP called for a debate on replacing him.
Tory MP James Duddridge, a long standing critic of Mr Bercow, said MPs should be given a chance to discuss what they want from the next speaker.
Commons leader Andrea Leadsom said she did not think MPs would welcome Mr Duddridge's proposal.
Mr Bercow, who is facing accusations of bullying staff, which he denies, then intervened to defend himself.
He told Mr Duddridge "in terms.... that I'm sure he will be fully able to understand" that he had been unanimously re-elected by MPs in June last year, following the general election.
He could potentially serve until 2022 if the current Parliament survives its full five-year term.
But his critics point to a pledge he made when he first stood for the role that he would stand down after nine years - a deadline which arrives next month.
Press reports suggest he is not now planning to step down that soon.
Speaking at business questions in the Commons, Mr Duddridge said he recognised there was "no appetite" to push for a vote to challenge Mr Bercow after the Conservatives lost their majority at the general election.
But he told Mr Bercow: "Given your manifesto commitment to go by 22 June, can we have a debate in government time about what we want from a speaker, what type of speaker we want, before we move to a secondary discussion about who we want to replace you?"
Mr Duddridge was heckled by some Opposition MPs as he asked the question, with shouts of "shame" and "ridiculous" heard.
Mrs Leadsom replied: "I certainly think, Mr Speaker, you have served this House for a very good number of years and to the best way you possibly can and I am grateful to you for that.
"I'm not sure that a debate on the subject [Mr Duddridge] suggests would be at all welcome."
Mr Bercow, intervening, said: "I also very gently say in terms which are very straightforward and I know he (Mr Duddridge) will be fully able to understand, that after each general election the proposition about the speaker returning to the chair is put and it is then voted upon by the House.
"The honourable gentleman will recall that I indicated my willingness to continue in the chair in June of last year.
"That proposition was put to the House and it was accepted unanimously.
"If the honourable gentleman had wanted to oppose it, he could have done, but simply as a matter of fact - I'm not making any criticism nor favourable comment - I remind the House that he did not."
The speaker's deputy Lindsay Hoyle was cheered by some MPs after standing in for him at Prime Minister's Questions on Wednesday, while Mr Bercow was attending the funeral of his predecessor Lord Martin of Springburn, in Glasgow.