TUC's Frances O'Grady: I've only met Theresa May once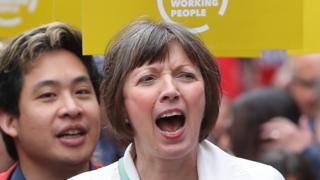 The leader of the Trades Union Congress says she has only ever met Theresa May once since she became prime minister.
Frances O'Grady said she had seen more of other world leaders like Germany's Angela Merkel than the UK prime minister.
She said she met Mrs May's ministers on a "semi-regular basis" and valued the opportunity to get a "fair hearing".
Downing Street said Mrs May "meets regularly with a range of industry leaders".
The TUC is an umbrella organisation for 49 trade unions.
Ms O'Grady, who has been its general secretary since 2013, told a Westminster journalists' lunch: "I have met Theresa May once. I have in the past sometimes reflected on the fact that I have met Angela Merkel [and] the president of Ireland, various others, many more times than our own prime minister."
She said she did not see it as a "left-right issue", adding: "I think there are countries where it is recognised that it is important not just to listen to business but listen to working people too."
If last year's general election - where Mrs May lost her majority - had been "decisive" she might be getting more access, she said.
The prime minister's spokesman said Mrs May's "absolute commitment to helping hardworking people" was what was important, urging people to judge her "on her record and in relation to the steps she has taken to support workers".