Andrew Tyrie won't take Conservative whip in Lords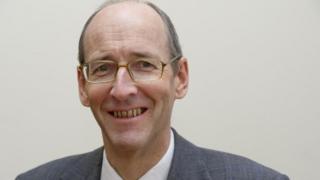 Former Conservative MP Andrew Tyrie will not take the Conservative whip when he joins the House of Lords, it has been confirmed.
The ex-MP for Chichester was one of nine new Tory peers announced by Theresa May last week.
But questions were raised over whether this was compatible with his role as chairman of independent City regulator, the Competition and Markets Authority.
Minister Lord Young confirmed Mr Tyrie would sit as a non-affiliated peer.
This means that he will not be under any obligation to vote with the government.
Lord Young said Mr Tyrie, who was chairman of the Commons Treasury Committee before stepping down at the 2017 election, had a reputation for being a "robustly independent-minded" figure.
Mr Tyrie was named chairman of the CMA, which is responsible for investigating mergers, tackling anti-competitive practices and upholding consumer protection laws, in April.
His decision not to take the Tory whip was welcomed by Lib Dem peer Lord Newby, who raised the matter in the Lords.