Iain Duncan Smith had 'issues' with Troubled Families scheme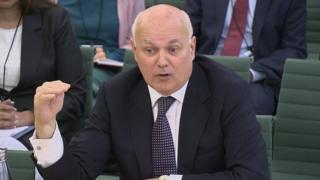 Former Work and Pensions Secretary Iain Duncan Smith had "issues" with the government's flagship Troubled Families programme, he has told MPs.
Mr Duncan Smith said he thought it was "a distraction" and that other ministers shared his concerns at the time.
Most of its targets were "slightly nebulous" and should be more "focused", he said.
The scheme focuses on families with multiple problems.
It was set up by former Prime Minister David Cameron following the 2011 riots in English cities.
The government pays councils up to £4,000 to work with each of the hardest-to-help families, on a payment-by-results basis, including cutting truancy and school exclusion rates and offending rates, as well as at least one adult getting into work.
Initially, £448m was spent targeting 120,000 families, and in 2015, £920m was set aside for a further 400,000 up to 2020.
The government says it has led to "significant improvements" in people's lives, although a 2016 report said it had had no "significant impact".
Mr Duncan Smith, who praised the scheme when he was the work and pensions secretary, told a committee of MPs: "I had issues with the Troubled Families programme, because I thought it was a distraction personally.
"There were a couple of us that thought actually we might have focused it slightly differently."
'Serious debates'
He suggested the resources could be better spent on support for Universal Credit claimants, which does "much of what it tries to do".
"One of the targets that can actually be measured is whether someone went back to work," he said.
"You can argue that other areas are slightly nebulous."
Saying he did not want to "rake over those old coals", he added: "I know there were genuine and serious debates about whether the Troubled Families programme should have been extended in quite the degree that it did."
Mr Duncan Smith - who was in charge of welfare between 2010 and 2016 - was the architect of the Universal Credit system, the controversial merger of six working-age benefits into a single payment which is now being rolled out across the country.
Grilled by the Work and Pensions Select Committee on the scheme, he said £2bn cut from its budget by former Chancellor George Osborne should be put back in, and accused some councils of "not engaging" in providing support for claimants.
Also giving evidence to the committee was Emma Revie of food banks charity the Trussell Trust, who said that while it would be "great" if the level of support described by Mr Duncan Smith was the reality, this was not "the experience on the ground".