NHS: Ministers still wrestling with long-term cash needs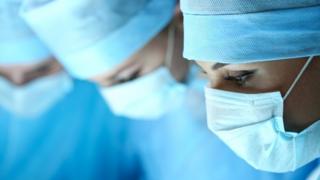 There's no coincidence at all that the independent number crunchers, the Institute for Fiscal Studies and the Health Foundation, have come forward with calls for significantly more cash for NHS England today.
Their report says 3.3% extra every year would be required to keep the service as it is, and 4% a year if the health service is to get any better - and around the same to care for the elderly too.
It matters right now because behind closed doors in Whitehall, the Department of Health, Downing Street and the Treasury are grappling to agree not just how much the NHS really needs but also what the government can really afford.
The prime minister promised at Easter that there would be a long-term, fully-funded deal for the NHS with more resources, after years of historically low spending rises.
But insiders say the final settlement could be as low as 2% a year, still billions of pounds, even though the Health Secretary Jeremy Hunt is understood to be asking for at least 3%.
Despite a series of fraught meetings between him, the prime minister and the chancellor, there is no agreement yet on how much the service might receive, for how many years the funding will be guaranteed or how it would be paid for.
And I'm told there is no certainty that a deal will be reached in time for the health service's 70th anniversary in July.
Any eventual long term settlement involves extra billions of taxpayers money. But if the government falls short there's a heavy potential cost. What to do next is an intensely political choice.