Jeremy Corbyn urged to give Labour members a say on Brexit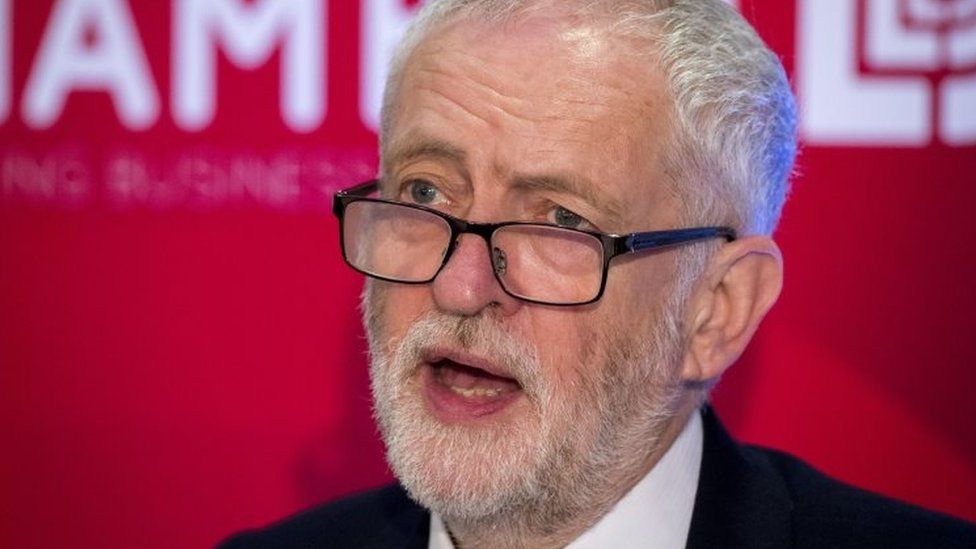 Jeremy Corbyn is facing pressure from members of Momentum to give Labour members a say on Brexit at the party's annual conference.
The left wing pressure group, set up to support Mr Corbyn, backs the leadership's position on Brexit.
But some members are understood to be anxious that key policy decisions will be made behind closed doors.
There is not yet a "coordinated" effort to push for a conference vote and debate, a Momentum source told the BBC.
But numerous members wanted a debate and the group was keen to support a "member-led" approach to policy-making, the source added.
Momentum - which backed Remain in the 2016 EU referendum - organised its members to choose subjects other than Brexit to be debated fully at last year's Labour conference.
But, according to the Observer, there is a growing clamour among senior Momentum figures and members for a Brexit debate at this year's event.
One Momentum member, Omar Raii, told the newspaper: "On an issue as big as this it would be unacceptable if we decided to determine our policy behind closed doors. It would be the worst kind of Blairite approach."
Mr Corbyn is also under pressure from the centrist, Blairite wing of his party for a Brexit vote at the party conference, with nine senior members of the Progress pressure group joining forces to push for one under the Laboursay.eu banner.
Labour's annual conference in Liverpool will take place in September - weeks before the "meaningful" vote promised to MPs on the Brexit trade deal that Theresa May is hoping to strike with the EU.
Like Mrs May, Mr Corbyn has ruled out staying in the single market when the UK leaves the EU next March and has rejected calls, including from his some of his own MPs, for a referendum on the final Brexit deal.
But in a major policy shift earlier this year, he committed Labour to forming a customs union with the EU - and many in his party and the trade union movement hope he can be persuaded to go further.
Labour's deputy Labour leader Tom Watson said no decision had been made on whether Labour MPs would be ordered by party managers to oppose membership of the single market, in a series of Commons votes next month on the EU Withdrawal Bill.
"We haven't decided our whipping arrangements yet," he said on ITV's Peston on Sunday.
"We haven't made a decision yet, but we've been pretty clear that there are deficiencies in the Norway model (for single market membership) that might not work for a bespoke UK deal."