Food and farming sector makes post-Brexit demands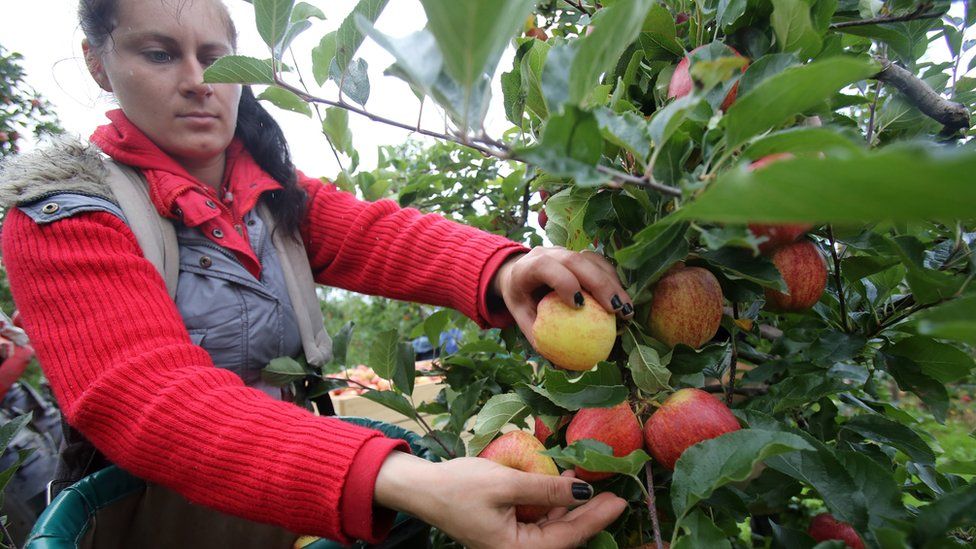 The food and farming industry wants assurances from the government that it will still be able to recruit enough staff from the EU after Brexit.
The demand came as part of a manifesto drawn up by more than 100 organisations across the industry and sent to the PM.
It urges the government to publish a white paper setting out its immigration plans "as a matter of priority".
A government spokesperson said those in the sector would be able to recruit EU citizens until December 2020.
Those in the farming industry have previously raised concerns about the impact of leaving the European Union on agricultural labour, which is often short-term, flexible and seasonal.
Environment Secretary Michael Gove said earlier this year that the case for a seasonal agricultural workers scheme after the UK leaves the EU in 2019 was "compelling."
It said the "significant number" of EU nationals the sector employed meant it was vital the government "ensures a continuing, adequate supply of permanent and seasonal labour" before and after the UK leaves the EU in March 2019.
The document said that recruitment difficulties from within the UK meant the government needed to guarantee that "in the short- to medium-term, the industry has access to the overseas labour market to help meet its recruitment needs".
The other main issues raised in the manifesto, drawn up by organisations representing farmers and their suppliers as well as manufacturers and retailers, were:
Maintaining "frictionless" trade with the EU
Developing an agriculture policy which promotes food production while maintaining existing high standards
Ensuring an "efficient and proportionate" regulatory system
NFU president Ms Batters said a Brexit that failed to champion UK food producers "will be bad for the country's landscape, the economy and, critically, our society".
She added: "The signatories to this manifesto will be looking to government to ensure its objectives are aligned with ours, to ensure British food production - something of which every person in this country enjoys the benefits - gets the best possible deal post-Brexit."
In response to the manifesto, a government spokesperson said: "We have been clear that up until December 2020, employers in the agricultural and food processing sectors will be free to recruit EU citizens to fill vacancies and those arriving to work will be able to stay in the UK afterwards.
"We are determined to get the best deal for the UK in our EU negotiations, not least for our world-leading food and farming industry which is a key part of our economic success."