Brexit: Theresa May being urged to 'take back control'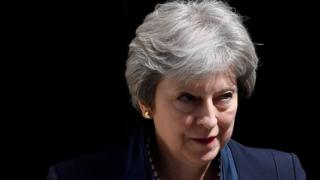 How tough is Theresa May? She has a death stare which makes Gordon Brown look, by comparison, like the kind of prime minister who'd be dead-legged by a nine-year-old in a school playground.
But is she as tough as she looks? Or is Mrs May merely stubborn? And cautious? And rather indecisive?
For a prime minister who has - or at least, once had - a reputation for strength, Theresa May's now spending a surprising amount of time being urged behind closed doors in Downing Street to stand up, and face down, the hard-line Brexiteers in her own party.
A stream of Tory MPs have been urging Mrs May to defy the hard-line Brexiteers for the sake of striking compromises to achieve what they're calling a sensible Brexit. Three former Cabinet ministers were the latest through the door. Amber Rudd, Justine Greening and her former deputy Damian Green.
Green told me, in an interview for BBC Radio 4's World at One: "There's a danger of assuming that those who shout the loudest represent the most and I think there is a silent majority within the parliamentary party that wants Brexit, that accepts that Brexit is going to happen, but wants it to be a pragmatic and sensible Brexit that means, above all, there's no disruption if we can achieve that."
What, then, about the whispered threat among Brexiteers that Mrs May might face a vote of no confidence, if she strays too far from the Brexit straight and narrow? Was he sure she'd win?
"Certainly that, but I think even before that, the vast majority of my colleagues, even those who have been very strongly campaigning for Brexit, recognise that this is absolutely not the time to do that sort of thing."
So what might a so-called sensible Brexit look like?
While Cabinet ministers search for agreement on Britain's future customs relationship with the EU - a search which, I'm hearing, is getting nowhere fast - attention's focussing on getting Brussels to agree to the fall-back plan of extending a customs deal until new trade deals are struck, and ensuring British borders have the staff and high-tech equipment to cope.
Meanwhile, at Westminster, there is more talk among Tory MPs than many people suppose about perhaps extending some form of single market relationship at the same time.
The former head of Theresa May's Policy Board, ex-minister George Freeman, certainly thinks so. And look closely for a phrase which seems to have become fashionable.
"The silent majority of the Conservative parliamentary party want the prime minister, and support the prime minister in negotiating a deal where we have as frictionless and as cost-free access to the European market as we can negotiate, and the freedom to do our own deals with the emerging economies," he told me.
"The mood in the parliamentary party is that the balance of probability falls in terms of staying with our existing market, and the burden of proof falls with those emerging trade deals. If we see them and begin to see what they could be worth then the mood shifts. But right now the vast majority of Conservative MPs want to deliver a prosperity Brexit."
Maybe so, but getting even broad agreement among MPs would be tough. Getting agreement in Brussels, maybe tougher still.
And there's a view among senior Tories that it would take a parliamentary defeat at the hands of Tory rebels and Labour opponents to force Theresa May's hand. Or untie them, depending on your point of view.
The Tory rebels' unofficial chief whip in the Commons is Stephen Hammond. Were the rebels who are threatening to vote to stay in the EU Customs Union holding firm? Ready to defeat the Government? The answer was "yes... if forced".
"But we're a long way away from that. I am trying to work with the government, as a number of others are, to make sure that we can get what the prime minister wants, which is frictionless trade. We need to start concentrating on the interests of British industry. And therefore if in the short term, we need a longer period in the customs union to sort out our new customs arrangements, that's what the government should do," he said.
Committed, convinced, Brexiteers insist enough compromises have already been made. Peter Bone doesn't shout. He's quite softly spoken. But still manages to make himself clear.
"There have been lots and lots of compromises by people who believe in Brexit to keep everyone together," he said.
"But there are certain things that we've compromised enough on to get agreement and we really can't go any further on those. We shouldn't be listening to people who shout the loudest, we should be talking to everyone and trying to create an agreement that everyone can support. But that has to be based on what the British people voted for."
To state the obvious, Brexit's a struggle. With Brussels. In the Tory party. And remember the wrangling in the Labour Party will be every bit as crucial to the outcome - whatever that may be.
But just now, the silent majority in the Tory party, if that's what they are, are keen to give a new meaning to the Brexiteer's favourite slogan. The one about "Taking back control".