Minister breaks rank on Northern Ireland Troubles investigations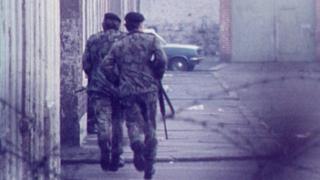 A defence minister has called for changes to the way the UK government plans to deal with the legacy of the Troubles in Northern Ireland.
Tobias Ellwood said a consultation should include a statute of limitations preventing the prosecution of former soldiers for historic offences.
There is no such provision in the document despite support from some Tory MPs.
Mr Ellwood - a former Army officer - said "common sense" should prevail.
The consultation, which includes setting up a new Historical Investigations Unit, was launched last month and closes on 10 September.
Ministers have reportedly been at odds over whether military veterans will be offered enough protection.
The idea of a statute of limitations - also referred to as an "amnesty" - has been opposed by Sinn Fein, while DUP leader Arlene Foster has also expressed reservations.
Speaking on BBC Radio 5 live's Pienaar's Politics, Mr Ellwood said he "knocked over a few milk bottles" during his Army days when he served in Northern Ireland.
"I don't want somebody knocking on my door, I don't want anybody knocking, asking for any members of my platoon that I served with, to ask questions of something that happened so many years ago," he said.
"But I also reflect on where things are with the border that I then witnessed, I would not want to see us go back to any form of that situation, so we must resolve this situation."
Asked whether a statute of limitations should be included, he said: "There's a consultation, I personally would like to see this considered - but it's not for me to make that judgement."
He added: "It does make sense to draw a line at some point to say that investigations have taken place to their conclusion and unless there's compelling evidence put forward to a very high court...we then close the books on that particular matter.
"However, there is a consultation taking place, these arguments I think will be put into that consultation and I hope common sense will then prevail.
"At the moment you are hearing of the historic allegations team, this Northern Ireland operation, knocking on doors of people who are now in their eighties asking for questions.
"That cannot be how we should look after our veterans."