The 'Heathrow special'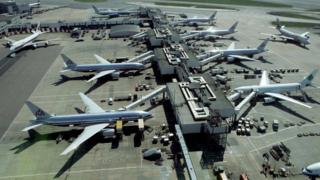 It's back.
At half past eight on Tuesday morning a small group of ministers is expected to say yes to another runway at Heathrow - again.
The full cabinet is then likely to give immediate approval in a meeting straight after the "Heathrow special" gathering.
Then, maybe immediately after, Chris Grayling (who's having a quiet week so far) is likely to publish the NPS - what's essentially outline planning permission for what is either an enormously overdue and inevitable addition to the national infrastructure or a white elephant that is in the wrong place that will never get built, depending on your view.
Yes, the decades-long debate about airports in Britain is returning (it's never gone for long) just at a time when the government is embroiled in rows it will struggle to win. As one cabinet minister joked, "it's the gift that keeps on giving".
However, with only Boris Johnson having big doubts around the cabinet table, the real rumpus will be in the Parliamentary Tory Party.
Plenty of Tory MPs have long held objections to Heathrow and they will be made loudly on the backbenches in the weeks to come. The government doesn't have a majority and remember, it wants to get this plan through the Commons by the end of the month.
If they can, it will be a demonstration of "look, we are getting on with things, it's not just Brexit!"
There will be howls, and the process even after this likely vote is a very long one. But the government can expect to get the vote through. Even if Labour opposes it, which it may well do on environmental grounds, the party is also split on the merits of the project so might not all vote together.
And the SNP in principle backs the runway, although like Labour they will wait to see the detail of the updated proposal before committing. So the government hypothetically should have the support it needs to get Heathrow over its next hurdle.
But as Chris Grayling well knows from the train timetable screw-up, policy in theory can be very different in practice.