MPs demand Vote Leave boss gives evidence in days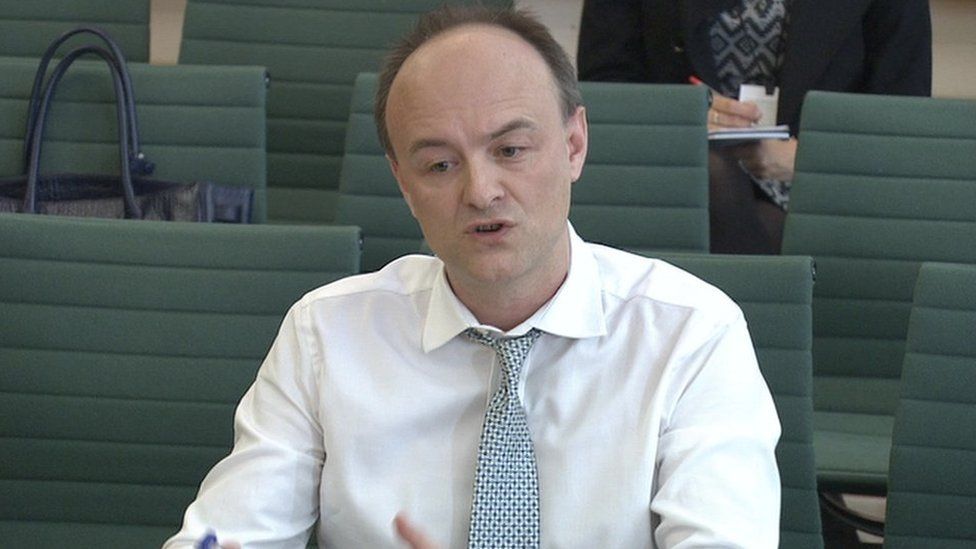 MPs have backed a motion demanding Vote Leave director Dominic Cummings appears before a select committee by 20 June.
Damian Collins, who chairs the committee, said efforts to invite Mr Cummings to appear had been "unable to reach a satisfactory conclusion".
And there was now "no alternative" but to ask all MPs to support a motion ordering him to appear, he said.
Mr Cummings has said he cannot appear while other inquiries continue and has accused the committee of grandstanding.
The Commons unanimously approved a motion demanding Mr Cummings agree to appear before the Digital, Culture Media and Sport Committee on or before 20 June, as part of its inquiry into "fake news".
Mr Cummings has argued that there are "legal issues" about him answering questions, because of a separate inquiry by the Electoral Commission.
But Mr Collins said there was "a certain irony" that someone who had run a successful campaign to restore powers to Parliament "seems to hold that institution in such contempt".
He said there were "important questions" for Mr Cummings to answer about the EU referendum campaign and, in reference to Mr Cummings's complaints about other investigations by the Electoral Commission and Information Commissioner, said the matter was not "sub judice" and Mr Cummings was not before the courts.
"His decision not to come, whatever he says, is one of his own making. It's a deliberate attempt to deny Parliament its right to question witnesses on matters of importance," Mr Collins said.
He added it was "the first time since 1920 that a motion of this kind has been put before this House".
Hilary Benn, who chairs another select committee said if potential witnesses began to think "'I don't have to turn up,' then how can we continue to do our job .... in holding the powerful to account?" and suggested legislation be drafted to deal with people who refused to attend.
The motion was backed by Commons Leader Andrea Leadsom. And Conservative MP Dr Sarah Wollaston, who also chairs a select committee, called Mr Cummings's actions "a disgrace" and agreed with Mr Benn that it was time to consider introducing a penalty for witnesses refusing to appear.
It had been reported that Mr Cummings had intended to come to the Commons while the issue was being debated, but he was not in the public gallery for the debate.
So: it seems that Dominic Cummings has decided not to come to Parliament to watch MPs debate his decision not to come to Parliament.

— Susan Hulme (@Susanh12) June 7, 2018
He has accused the DCMS committee of "grandstanding" and wrote in response to a letter from Mr Collins: "I'm calling your bluff. Your threats are as empty as those from [Prime Minister Theresa May, Chancellor Philip Hammond and Brexit Secretary David Davis] to the EU. Say what you like, I will not come to your committee regardless of how many letters you send or whether you send characters in fancy dress to hand me papers.
"If another committee behaves reasonably and I can give evidence without compromising various legal actions, then I will consider it. Once these legal actions have finished, presumably this year, it will be easy to arrange if someone else wants to do it."
The MPs are looking at how consulting company Cambridge Analytica harvested the data of millions of Facebook users worldwide. The London-based company - which announced it was closing in May - is accused of acquiring data from up to 87 million Facebook profiles for use in political campaigns. Cambridge Analytica has denied any wrongdoing.
There have also been questions about links between Cambridge Analytica and the Vote Leave campaign. Vote Leave spent £2.7m on the services of Canadian digital agency AIQ in the run-up to the June 2016 EU referendum and AIQ has admitted it also conducted work for Cambridge Analytica's parent company, SCL.
The leaders of the other main Leave campaign, Leave.EU, are due to give evidence to the committee on 12 June. Former Cambridge Analytica chief Alexander Nix appeared before it on Wednesday.