Brexit: Rebel Tory MPs urged to back May in EU votes
Tory MPs have been urged to rally round Theresa May ahead of a series of crucial parliamentary votes on Brexit.
Former home secretary Amber Rudd and ex-leader Iain Duncan Smith called for "discipline" and "unity of purpose".
Writing in Sunday's Telegraph, they said the EU Withdrawal Bill was key to delivering Brexit and any defeats would help Labour "frustrate" the process.
But ex-chancellor Ken Clarke said Theresa May was being "undermined" by her ministers and had to be "rescued".
Labour are urging Tory rebels to side with them in the Commons on Tuesday and Wednesday as ministers try to overturn more than a dozen amendments made by the House of Lords.
If enough Tory MPs decide to vote with Labour and other opposition parties, the government could be defeated on several key votes, including on amendments intended to keep the UK in a customs union with the EU and to give Parliament a decisive say over the final Brexit deal.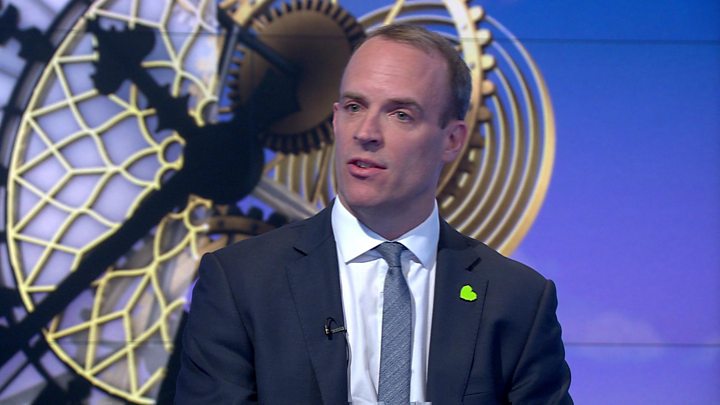 Labour's Sir Keir Starmer told the BBC's Andrew Marr that while it would be difficult for Tory MPs to rebel, they had a "real chance to change the course of the Brexit negotiations".
But in a show of unity, Ms Rudd - a leading Remain supporter in the 2016 referendum - and Mr Duncan Smith, a vocal Brexiteer, said Labour would be quick to exploit any government setback.
"Jeremy Corbyn will do everything he can to stop us," they wrote. "That includes cynically trying to frustrate the Brexit process for his own political ends."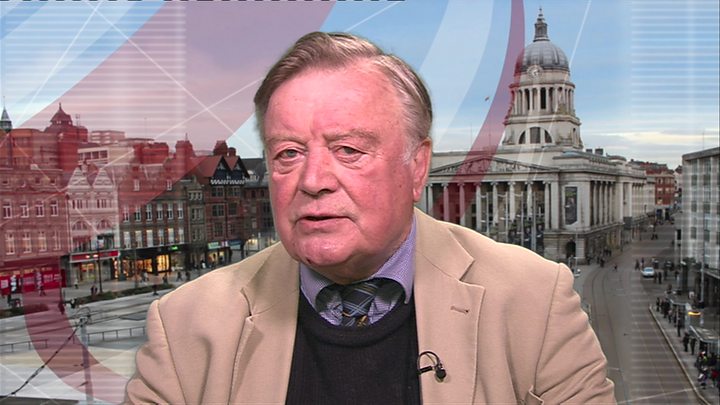 In the joint article, the pair say the withdrawal bill is "not about competing visions of the future but about ensuring legal certainty at our point of departure".
Urging colleagues "to demonstrate discipline and unity of purpose", they said "we cannot allow ourselves to become divided and risk losing the precious chance to go on implementing policies that transform lives".
Housing minister Dominic Raab said he was "reasonably confident" the government, which will have the support of a handful of pro-Brexit Labour MPs and the 10 Democratic Unionist MPs, would prevail.
Passing the withdrawal bill would be a "turning point" in the Brexit process, he told the BBC's Sunday Politics, as it would be the basis for a "smooth transition" after the UK leaves.
Potential rebels had to think "very seriously" before defying the government, he added.
---
Are rebels prepared to strike?
By Susana Mendonca, BBC political correspondent
With its small Commons majority, just a few backbench Tories siding with the opposition could lead to defeats for the government this week.
What isn't clear is whether those backbenchers unhappy with the government's approach on the EU Withdrawal Bill will go as far as to strike the kind of blow that could destabilise a prime minister who's already struggling to keep her Cabinet together after a week of threats of resignations.
The fact that two such high-profile polar opposites on Brexit - Remainer Amber Rudd and Brexiteer Iain Duncan Smith - have joined forces to urge their colleagues to vote with the government is a sign of just how worried some on both sides on the Conservative Brexit debate are about the prospect of Theresa May being weakened in EU negotiations, or even toppled.
"Better the devil you know" is a phrase that comes to mind - as neither side wants to end up with a PM who leans more towards the type of Brexit they don't want.
There are Tory backbenchers like Ken Clarke who think the only way to tame the more vociferous Brexiteers on the frontbench is for backbenchers to inflict a blow that they cannot ignore.
So there will some rebels this week despite the warnings to toe the line - but will there be enough of them?
---
The prime minister, who will address all Tory MPs on Monday, has accused peers of going "far beyond" their role with their amendments to the withdrawal bill.
But former Chancellor Ken Clarke rejected suggestions Mrs May could be forced out if she was defeated - saying she would comfortably win any vote of confidence among Conservative MPs.
"We need to rescue the prime minister from this terrible treatment she is getting from key members of her cabinet," he told Sunday Politics.
He suggested Foreign Secretary Boris Johnson, who criticised the government's strategy last week, and Brexit Secretary David Davis, who reportedly came close to resigning, were using "Donald Trump methods" to undermine the prime minister.
The veteran europhile said MPs must take "control" of the Brexit process and he would back efforts to strengthen the terms of the "meaningful vote" that Parliament has been promised on the final deal.
"I know we have got to back the prime minister but kicking the can down the road for another month is hopeless," he said.
Speaking earlier to the BBC's Andrew Marr show, Cabinet Office minister David Lidington accepted the parliamentary arithmetic was "difficult" but urged MPs to "get behind" the PM.
But confirming the SNP would vote against the government on all the amendments, Scottish First Minister Nicola Sturgeon said the EU Withdrawal Bill as it stood was "unacceptable".