Labour's Janet Daby wins Lewisham East in by-election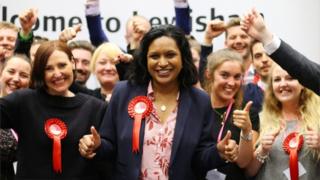 Labour has held Lewisham East in a by-election triggered by the resignation of former frontbencher Heidi Alexander.
Lewisham councillor Janet Daby pledged to oppose a "hard Brexit" after winning with 50.2% of the vote in the Remain-voting area of south-east London.
Labour's majority was slashed from 21,213 at the general election to 5,629 as the Lib Dems overtook the Tories to claim second place.
Turnout was just 33% - less than half what it was at the general election.
Lib Dem Leader Sir Vince Cable described it as "the largest swing from Labour to the Liberal Democrats in over a decade" something he attributed to "the failure of Labour's leadership to oppose the Conservatives' hard Brexit".
Labour's Janet Daby received 11,033 votes, the Lib Dem candidate Lucy Salek 5,404 (24.6%), and the Conservative candidate Ross Archer 3,161 (14.4%).
Ms Daby, the former deputy mayor of Lewisham, said she felt "humbled and delighted".
In her acceptance speech she said her victory meant "we will not tolerate an extreme Brexit in Lewisham East".
"We refuse to stand by and let a Tory government devastate our schools, our health service and our housing," she added.
Asked if there was much difference between her and party leader Jeremy Corbyn on Brexit, she said she wanted to ensure "we have as close a relationship to the EU as possible".
"I voted for Jeremy Corbyn twice in the leadership election and obviously within politics not everybody will agree on everything ... but we need to find a way around it that holds the Tories to account."
Ms Daby has been a councillor for Lewisham since 2010 and is the director of the Whitefoot and Downham Community Food + Project which she founded in 2013. She was picked as the party's candidate from a shortlist of black and ethnic minority women.
A total of 21,979 people turned out to vote in the by-election - 33.2% of the electorate.
There was a 19% swing from Labour to the Lib Dems, who saw a 20% increase in their vote share from the last election.
Labour won the south-east London seat at the 2017 general election with 32,072 votes - a majority of more than 20,000. Turnout in 2017 was 69%.
Their new majority is 5,629.
The former Labour MP Heidi Alexander announced in May she was quitting Parliament to work for Mayor of London Sadiq Khan.
The full results in Lewisham East were:
Janet Daby - Labour 11,033 (50.2%)
Lucy Salek - Liberal Democrats 5,404 (24.6%)
Ross Archer - Conservative 3,161 (14.4%)
Rosamund Adoo-Kissi-Debrah - Green Party 788 (3.6%)
Mandu Reid - Women's Equality Party 506 (2.3%)
David Kurten - UKIP 380 (1.7%)
Anne Marie Waters - For Britain Movement 266 (1.2%)
Maureen Martin - Christian Peoples Alliance 168
Howling Laud Hope - Monster Raving Loony Party 93
Massimo DiMambro - Democrats and Veterans Party 67
Sean Finch - Libertarian Party 38
Charles Carey - no description 37
Patrick Gray - Radical Party 20
Thomas Hall - Young People's Party 18