New Brexit defeat for government in Lords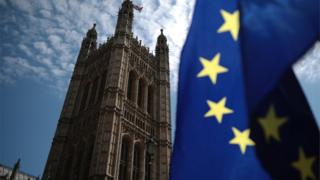 MPs will vote again on how much of a say Parliament should have on Brexit, after another House of Lords defeat for the government.
Peers decided MPs should have to approve whatever the government decided to do next if there was no final agreement with the EU.
Their amendment to the EU (Withdrawal) Bill was backed by 354 votes to 235.
It means the issue is sent back to the House of Commons for a debate on Wednesday.
Leading Tory Eurosceptic Jacob Rees-Mogg accused the Lords of being "cavalier" towards the UK's constitution.
The UK is due to leave the European Union in March 2019. And negotiations have been taking place over the terms of its departure.
But there is an ongoing row about what happens if Parliament votes to reject the final deal reached between the two sides - or if no deal is reached.
One side says Parliament should intervene to prevent the UK from "crashing out" of the EU without a deal - but critics say the prospect of this happening would undermine the UK's negotiating hand.
Last week, Theresa May avoided defeat on the issue - but rebels said they were not happy with the concessions they had been offered in return for not voting against the government.
Now, peers have backed an amendment from former Conservative cabinet minister Lord Hailsham, which goes further than the government's proposals on how much power MPs could get.
The 119 majority was 28 more than the last time peers voted on the so-called "meaningful vote" issue.
Lord Hailsham, who described Brexit as a "national calamity" in his speech, said his amendment represented what had been agreed "in good faith" by the would-be Tory rebels, led by former Attorney General Dominic Grieve, and Downing Street last week.
"It's a matter of honour," he said.
He also said his proposals were in the "national interest", adding: "In order to safeguard our nation's vital interests, in the event that there be no deal on the table, Parliament should have the authority to intervene."
---
What the Lords voted for
Lord Hailsham described his amendment as "Grieve Two", meaning it was a new version of proposals tabled last week by former Attorney General Dominic Grieve, who wants Parliament to get more of a say over Brexit.
It would apply in three scenarios:
If MPs vote down the UK-EU Brexit deal
If Theresa May announces before 21 January 2019 that no deal has been reached
If 21 January passes with no deal being struck
Under these circumstances, the government has said, a minister will make a statement in Parliament, setting out the government's next steps.
The government had offered MPs the chance to vote "on neutral terms" on this statement. But the amendment backed by the Lords on Monday goes further, saying the statement would have to be approved by MPs.
---
Lord Hailsham also criticised what he called "disgraceful" newspaper attacks on Mr Grieve and said it was "perfectly true" that he had held talks with other parties in drawing up his amendment.
"I make absolutely no apology for that," he said.
"This is the high court of Parliament, and we are not party hacks."
Lord Hailsham's fellow Tory peer Lord True said ministers had already "made a serious attempt to compromise" with the rebels' demands.
"People outside Parliament are getting a little bit tired of the parliamentary games," he said.
"They actually want to know when they're going to get Brexit, when it will be delivered and when it will be done."