Queen's nephew Lord Snowdon to seek election to Lords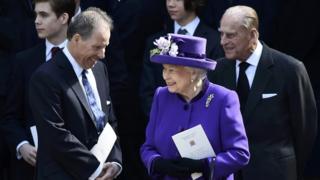 The Queen's nephew who is 20th in line to the throne, is standing for election to the House of Lords.
Lord Snowdon, the son of the late Princess Margaret and photographer Antony Armstrong-Jones, is one of 19 candidates for the ballot on 3 July.
A furniture designer and former UK chairman of Christie's auctioneers, David Armstrong-Jones inherited his father's title on his death last year.
Next month's ballot was triggered by the retirement of Lord Baldwin.
There are 92 hereditary peers in the Lords, who stayed in the upper chamber after the remainder were expelled in 1999 in changes carried out by the government of Tony Blair.
Under current conventions, when one of their number dies or retires, a by-election is held to elect a successor.
The contest is open to all those with hereditary titles on the register kept by the clerk of the parliaments.
Of the 19 candidates this time around, the 56-year old Lord Snowdon - better known under his previous title of Lord Linley - is the only one not to issue a short statement outlining his reasons for standing and his relevant experience.
When he was born, in 1961, he was fifth in line to the throne. He now sits 20th after Zara Tindall, the Queen's grand daughter, gave birth to a baby girl on Tuesday.
He has published a number of books on design and set up a furniture, upholstery and accessories business in 1985. It was reported in 2012 that he had lost executive control of the business.
His father sat in the House of Lords for more than 50 years after he was made a peer in 1961, a year after he married the Queen's younger sister.
He was one of 10 hereditary peers to accept a life peerage in 1999, allowing them to continue to attend the Lords.
If he were to be successful, his son would sit as a crossbencher - with no affiliation to any political party.
He is not the only candidate with a royal connection. One of his rivals, Lord Bridges, has been the Queen's personal solicitor since 2002. He will shortly retire as a partner with the law firm Farrer and Co.
The result of the ballot will be announced on 4 July. Only the 31 existing hereditary crossbenchers will be permitted to vote in the contest.
Labour peer Lord Grocott has led a campaign to ban elections for hereditary peers, which he has called "beyond ridiculous". But a bill tabled in 2016 failed to make any headway.
A separate election will be held on 17 July to elect a successor to Conservative hereditary peer Lord Glentoran. The list of candidates will be published later this month.