Prime Minister's Questions: The key bits and the verdict
By Brian Wheeler
Political reporter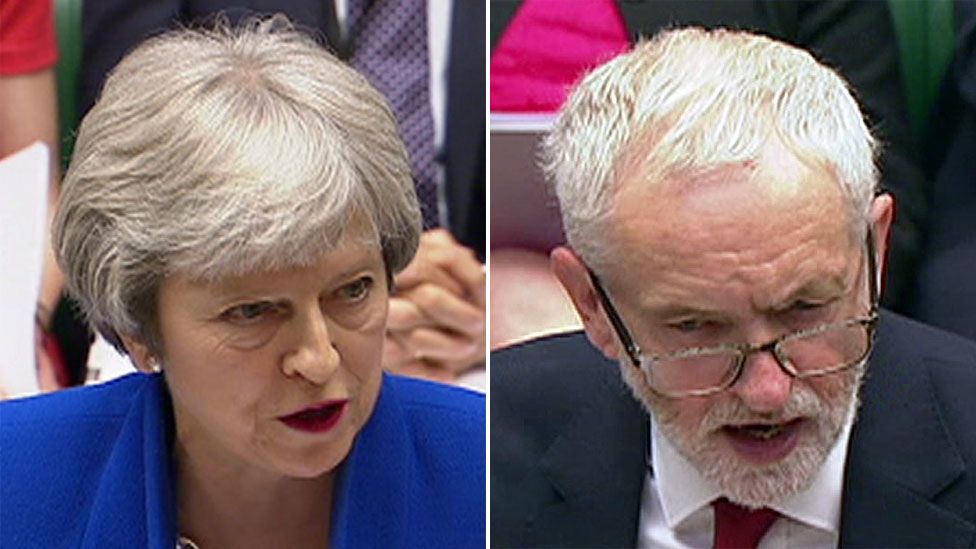 Theresa May went head-to-head with Jeremy Corbyn in the House of Commons. Here's what happened.
Something of a role reversal this week, as a Labour leader repeatedly urged a Conservative prime minister to be "straight" with voters about where extra money for the NHS was coming from.
Theresa May had acknowledged the £20.5bn a year boost for the NHS would come from Brexit, economic growth and tax, said Jeremy Corbyn.
"There can be no Brexit dividend before 2022, economic growth is the slowest since 2009 - so which taxes are going up?"
Mrs May said a long-term plan for the NHS had been set out, with money no longer sent to the EU available for the health service.
She then quoted Mr Corbyn, who had, apparently, said in a speech that Labour would "use the funds returned after Brexit" to invest in public services.
"I am very pleased the prime minister is reading my speeches," said Mr Corbyn but, he added, she had got his meaning wrong. He had actually said money should be ring-fenced to replace EU structural funds to regions, agriculture, the fishing industry and research for universities.
He added: "Can she be straight with people - which taxes are going up and for whom?"
The chancellor "will set it out properly before the spending review", replied the PM. There would be no money returning from the EU under Labour, she told MPs, because they wanted a deal "at whatever the price".
The pair then tussled over figures, as Mr Corbyn claimed the PM had got the amount the UK would be able to spend every week as a result of the "Brexit dividend" by 2023/24 wildly wrong. It could not possibly be £600m, he claimed.
"Her figures are so dodgy they belong the side of a bus," declared the Labour leader, following up with a swipe at Leave campaign leading light Boris Johnson, in case we hadn't got the message.
What she had actually said, the PM hit back, was that the £600m a week was the amount in "cash terms" that would be "partly" funded by money saved from EU subscriptions. There would be tax increases - "as a country we will be contributing a bit more" - but the chancellor would be setting those out in due course.
Mrs May claimed her government was planning to pump more money into than NHS - 3.4% - than Labour had promised.
Mr Corbyn said Labour would have given the health service 5% this year - and took another swipe at the "mysterious, phantom taxes" Philip Hammond was dreaming up.
The Labour leader then read out a letter from a voter, Virginia, whose diabetic daughter had both legs in plaster after falls but who had been told by the NHS there was no money for a wheelchair for her. "Standing still" on NHS spending was not good enough for Virginia or "anybody else", cried the Labour leader.
Mrs May quoted the head of the NHS in England, Simon Stevens, who had praised the long-term funding settlement.
And then, as she never fails to do when the health service is the subject of the day, she launched an attack on Labour's running of the NHS in Wales, which she claimed was getting less funding than the health service in England.
Mr Corbyn batted that away and accused Mrs May's government "writing IOUs just to stand still on the NHS". If the government wouldn't say where the money was coming from, "why should anyone, anywhere trust them on the NHS", he asked.
Because, replied the PM, the "stewardship" of the NHS had been in Tory hands for 43 of its 70 years and Labour "would bankrupt this economy".
The SNP's Iain Blackford - back in his place on the Commons benches after last week's shenanigans - was the first MP to call on Mrs May to condemn US President Donald Trump over the treatment of child migrants at the Mexican border (Mr Corbyn had made a reference to the "tragic and shocking" images of children held in cages in the pre-amble one of his questions).
Mr Blackford asked Mrs May if she still planned to roll out the red carpet for Mr Trump at his planned visit to the UK in July.
She said the nature of the "special" relationship with the United States meant "when we disagree with what they are doing, we say so".
"The pictures of children being held in what appear to be cages are deeply disturbing. This is wrong, this is not something that we agree with."
"This is not the United Kingdom's approach. Indeed, when I was home secretary, I ended the routine detention of families with children."
Labour's Gavin Shuker and former Labour leader Ed Miliband also raised the US migration scandal, with Mr Miliband asking what she would do to defend liberal values.
The PM began the session with an announcement of an annual Windrush day.
Labour's Lisa Nandy had some leaked emails about railway timetable changes:
Simon Hoare made a "dinosaur" joke at the expense of his Conservative colleague - and neighbouring MP - Sir Christopher Chope, who last week week blocked a bill that would have banned "upskirting":
Here is what the BBC's political editor Laura Kuenssberg said:
"In some senses, this is officially the end, if it had not already been chipped away at, of what David Cameron and George Osborne constructed as their project which was, yes we will ring-fence the NHS but broadly speaking, they weren't going to put up taxes to do so" @bbclaurak pic.twitter.com/OzzXHiMEvL

— BBC Daily Politics and Sunday Politics (@daily_politics) June 20, 2018
Here's the BBC's Mark D'Arcy's take on the session:
That was quite an old fashioned PMQs, with a long exchange on the funding of the government's new NHS pledge at its centre, and some effective interventions from the backbenches. Theresa May seemed somehow more confident and less careworn, and came armed with some quotes from Jeremy Corbyn that seemed to show Labour making plans on how to spend a Brexit dividend.
The Labour leader had his moments in these exchanges, but he blunted his initial attack with too many preliminary remarks before getting to the sharp part of his question.
He was a bit more agile in his responses than he sometimes is and dropped in some well prepared lines. The key question of which taxes would be raised to meet the PM's new spending commitment was fended off with a statement that the Chancellor was looking at that - quite a weak answer, which the PM sought to move past with a series of mocking attacks on Labour's economic competence. And Mr Corbyn did not manage the laser-like focus he needed to press his attack.
I don't think anyone "won" these exchanges, but both leaders got their attack lines on the record.
And the PM actually looked rather more uncomfortable when the SNP's Ian Blackford raised President Trump's treatment of the children of immigrant families.
One sign of this was that she opened her reply with a slightly out of place jibe that it was good to see Mr Blackford in his place - a reference to his walkout last week.
She had a well prepared answer which also referenced her record as home secretary, but she was then on the receiving end of a really effective question from Labour's Gavin Shuker who asked what President Trump had to do, to get his invitation to a state visit revoked.
Her questioners calculated that the PM was in no position to antagonise President Trump and that she would therefore be trapped into a weak-looking response. She will have known this question was bound to come up and did her best to sound assertive - responding with a stronger line than before - but she was still left in an uncomfortable position.
Finally, armed with what, from her account, looks like an embarrassing set of leaked emails about the handling of the railway timetable change, Labour's Lisa Nandy held the House while she asked a long but very effective question, laden with mini-quotes and awkward facts.
The PM was clearly caught unawares and fell back on the standard defensive line that governments don't respond to leaks. But this leak will play into commuter fury over the performance of the railways, and she gave it prime-time exposure.
So today's winners are Lisa Nandy and Gavin Shuker.
What pundits are saying on Twitter
Wigan's Lisa Nandy gloriously direct with her Northern Rail leaked memos ambush of "incompetent" May. That was a class cameo performance #PMQs

— Kevin Maguire (@Kevin_Maguire) June 20, 2018
Ooh. May denies she said there will be a "Brexit dividend". So why did no10 tweet the phrase? Cos *some* in no10 are true believers on Brexit.

— Paul Waugh (@paulwaugh) June 20, 2018
Wow, an actual story at #PMQs: Lisa Nandy claims to have what sound like incendiary leaked emails between ministers about Northern rail chaos.

— Isabel Hardman (@IsabelHardman) June 20, 2018
An audio download of some of the key exchanges, and what Andrew Neil and his Daily Politics guests made of the exchanges.