Boris Johnson challenged over Brexit business 'expletive'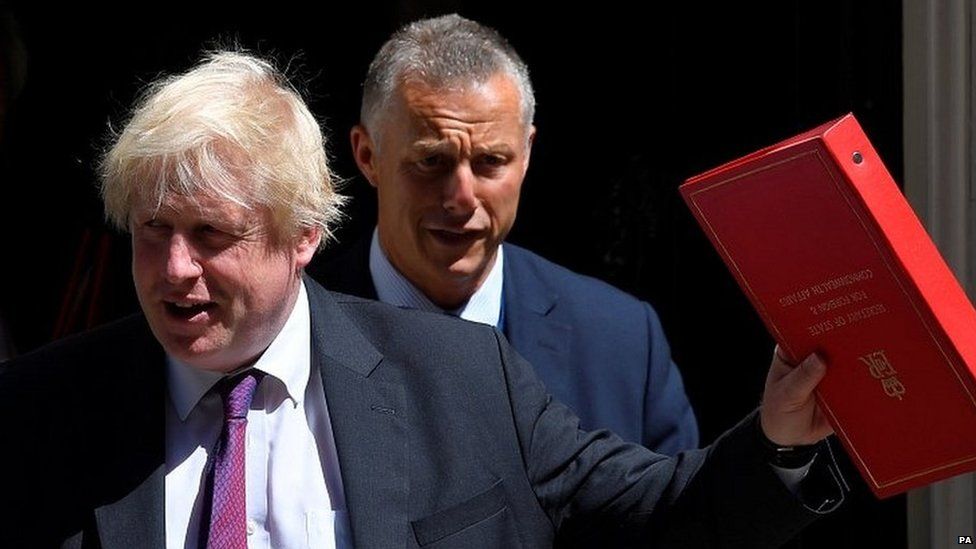 Boris Johnson has refused to deny claims he used an expletive when asked about business concerns about Brexit.
The foreign secretary is reported to have used the swear word at a diplomatic gathering last week.
Asked about this in the Commons, he said he may have "expressed scepticism about some of the views of those who profess to speak up for business".
Theresa May said it was right the government listened to business voices about the terms of the UK's exit.
This story contains language some may find offensive.
Airbus, BMW and Siemens have warned about the impact on their UK-based operations if the UK leaves the EU next March without any agreement.
Their warnings have prompted different responses from ministers.
Business Secretary Greg Clark has said the UK must "take and act on the advice of business" but Health Secretary Jeremy Hunt said a warning from Airbus that it could cease operations entirely in the UK, threatening thousands of jobs, was "completely inappropriate".
Mr Johnson, who was reportedly speaking at the time to Rudolf Huygelen, Belgium's ambassador to the EU, was also overheard saying he and others would fight Theresa May's soft Brexit "and win".
The foreign secretary, who was a key figure in the Leave campaign, was pressed on the issue in Parliament by Labour MP Owen Smith, who asked him if the comments were correct and, if so, whether they could be "remotely justified".
"I don't think anybody could doubt the passionate support of this government for business," Mr Johnson said.
"It may be that I have, from time to time, expressed scepticism about some of the views of those who profess to speak up for business."
Mr Johnson's comments about Brexit have frequently proved controversial. He was recorded telling Tory donors last month that the UK's strategy lacked "guts" and suggested US President Donald Trump could do a better job.
The latest remark has angered some Tory MPs, with former Science Minister George Freeman telling BBC Radio 4's World at One programme that the reported comments were not "helpful, responsible or statesmanlike".
The prime minister, who will travel to Brussels on Thursday for a summit of EU leaders, told a chief executives summit hosted by the Times she wanted business to be able to speak to the government.
"It's right that we listen to the voice of business," she said.
"Business is at the heart of how we are going to develop this country," she said. "We want to ensure we are listening to the business voice because business provides the backbone of our economy."
MPs who favour a clean break with the EU after Brexit, in March 29 2019, have called on Mrs May to walk away from negotiations if the EU does not show willingness to begin trade talks immediately.