Arron Banks: Watchdog criticises charity set up by Leave.EU donor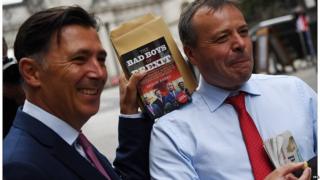 A charity established by Leave.EU donor Arron Banks "risked misleading" the public about its activities, a report by the Charity Commission has found.
The watchdog found "discrepancies" between claims on Love Saves The Day Foundation's website about donations and information in its annual accounts.
While there was no misuse of funds, it said they were not "properly accounted for" by Mr Banks and other trustees.
Mr Banks said claims he was personally at fault were "utter rubbish".
The businessman said the charity, which was wound up last year, "did not raise any money from the public nor receive any donations while it was being set up".
The Foundation was set up in 2015 with the purpose of promoting enterprise and economic development and supporting youth and sports education in Commonwealth countries, including Lesotho and South Africa.
As well as Mr Banks, its other trustees were Leave.EU's chief executive Liz Bilney, its director of communications Andy Wigmore and James Pryor, a former adviser to South African President FW de Klerk.
The charity's accounts for the year ending 31 May 2016 reported no income nor expenditure.
In the report, the trustees said they expected this lack of financial activity to continue for another year as their focus was on research into potential projects and fact-finding trips.
'Properly accounted'
But the watchdog said this was at odds with claims on the organisation's website that it had made "significant donations" during the period in question.
The regulator said it had been told the donations had been made in a personal capacity by one of the trustees - who had also paid for visits undertaken on the charity's behalf.
As part of its investigation, the watchdog looked into reports that at the time of its registration in 2015 the charity was set to receive a £10,000 donation.
After examining bank statements, it found the charity never received the donation and that the trustees had instructed the donor to transfer the funds directly to another charity whose aims were consistent with theirs, in compliance with the law on charitable donations.
While the funds had ended up being used "appropriately", it found that by not declaring them as income in its accounts, the charity's trustees were "not properly accounting for all charitable funds".
"We therefore considered that there had been a serious flaw in the administration of this charity," the watchdog said in its report.
"We also found that the charity's website risked misleading the public due to the charity's inactivity. We therefore set out in clear terms to the trustees that it must be taken offline as a matter of urgency."
'Live its values'
The regulator rejected suggestions that it was targeting the charity because of its links to Mr Banks and other key figures in the campaign to leave the EU.
It said the investigation did not relate to political campaigning or activity but to whether the charity was fulfilling its legal duties in a way which maintained public confidence and trust in the charitable sector.
"We encourage individuals to donate to charities, but where this is done via a charity, the rules set out under charity law apply," a spokesman said.
"These rules apply to everybody, and anyone who sets up a charity should live its values."
Mr Banks, who is currently embroiled in a row with another public body, the Electoral Commission, over Leave.EU's referendum spending, said the watchdog should be focusing on the abuse of public money by much larger charities "rather than attacking me".
"How I choose to make donations to charity is my business and my business only," he said.
The charity, he said, had closed due to "difficulties" relating to its advisory law firm acting as a trustee.
"It's precisely because the trustees recognised their legal duties and responsibilities that we decided to shut the charity down and to suggest otherwise is world class tosh," he said.
"To suggest that the other trustees of Love Saves The Day fell short of expectations with inadequate management and administration is utter rubbish," he said.
He said he had donated £1m in recent years to small charities, including in Lesotho and Belize.