Call for transparency on MPs' second jobs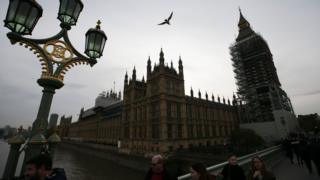 MPs should be more transparent with voters if they have second jobs outside Westminster, according to a watchdog.
The Committee on Standards in Public Life wants the code of conduct for MPs amended to state that outside interests, whether paid or unpaid, must not compromise their elected roles.
Its chair Lord Bew said candidates should make clear any plans when they seek election.
"The fundamental job of an MP is to actually be an MP," he said.
The committee launched an inquiry last year in the aftermath of George Osborne's appointment as the editor of the London Evening Standard while still the MP for Tatton, the former chancellor having also taken on several other roles outside Westminster.
Mr Osborne defended the move at the time, but stood down as an MP after Theresa May triggered a snap general election.
Speaking on the BBC's Westminster Hour, Lord Bew recalled an "explosion" of "relatively negative comment" in response to Mr Osborne's second jobs.
He added: "The fundamental job of an MP is to actually be an MP. That is the defining point, to carry out the duties of being an MP."
Calling for increased transparency, he added: "A certain amount of rust and war-weariness has descended in this area. The intensity of commitment to transparency has faded somewhat. This is an area which does have to be revisited because transparency does act as a deterrent to bad behaviour.
"It is the committee's long-held view that candidates should make clear to the electorate during an election campaign if they intend to carry on work in a certain area outside Parliament."
The current rules
There are no rules banning MPs from holding other sources of employment, and many do. Opinion is divided on whether or not this is a good thing.
For some, having work outside of Parliament means MPs have a broader range of experience and are less likely to be "career politicians".
MPs are not allowed to act as a "paid advocate", and have to declare their financial interests, including paid employment outside Parliament, in the Register of Members' Financial Interests. There are also restrictions on the roles cabinet ministers are entitled to take up immediately after leaving office.
Lord Bew said he understood why MPs might feel "prickly" about calls for more transparency. But he warned:
"The public thinks that you have chosen this life - you weren't forced into it - and they expect things from you that actually they don't expect from public service in a whole number of other areas of life. This is slightly unfair but this is the reality."
Critics of the current policy say banning second jobs would increase public trust in politicians.
Former Labour MP Peter Bradley, who represented The Wrekin between 1997 and 2005, said the report's recommendations were "far too timid".
"The committee has missed an important opportunity to place MPs on the same footing as their constituents, most of whom would face the sack if their employer found them moonlighting on company time," Mr Bradley, who is now director of the Speakers Corner Trust, said.
"The only way to ensure that all MPs devote themselves to an already well-paid job is to outlaw any other form of employment which puts personal profit before public service."