Call for parties to publish gender breakdown of candidates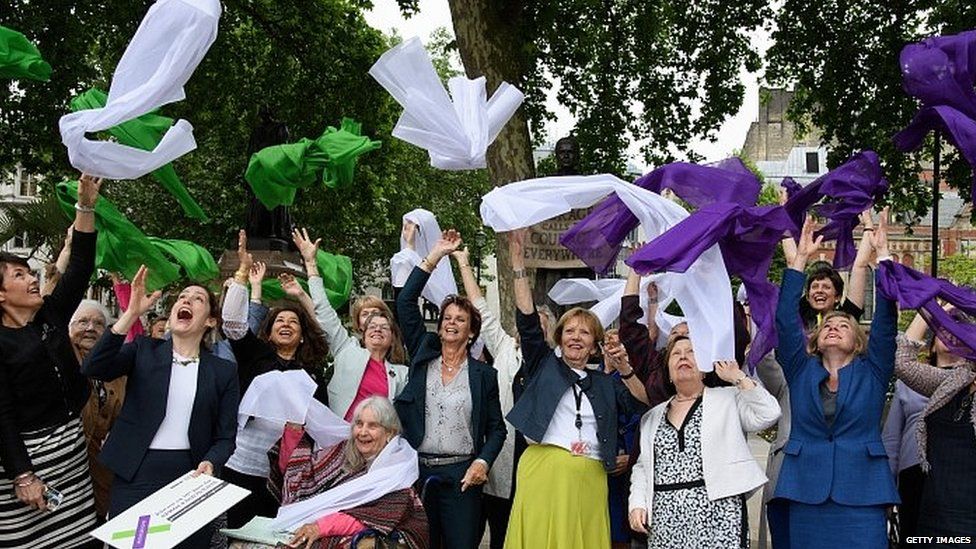 Political parties should be required to publish details of their election candidates by gender to highlight the "shameful" gap in numbers between men and women, campaigners are arguing.
The Centenary Action Group, which wants equal representation in Parliament, said a lack of information meant it was harder to hold parties to account.
They say ministers are able to force compliance under the 2010 Equality Act.
Ministers have expressed concern about the "regulatory burden" involved.
A record number of women, 208 in total, were elected to Parliament last year, up from 191 in 2015. However, they still only make up 32% of the total number of 650 MPs.
According to BBC research, 41% of Labour candidates at the 2017 general election were women, compared with 33% for the SNP, 30% for the Liberal Democrats and 29% for the Conservatives.
The Commons Women's and Equalities Committee has recommended that parties should be fined if they fail to ensure at least 45% of their general election candidates are female.
The Centenary Action Group said action was needed on the 100th anniversary of the 1918 Representation of the People Act - which gave many women over the age 30 the vote for the first time.
Requiring parties to publish basic demographic information about their candidates would be an "invaluable resource" to monitor progress towards gender equality in politics and to promote "positive competition".
While the 2010 Equality Act gives ministers the power to require parties to publish demographic details of candidates elected at UK and devolved elections, as well as those who were unsuccessful, the provisions have never come into force.
Campaigners say it would be simple for Parliament to approve the specific extra regulations needed for this to happen with ministerial backing - and that this should also be extended to council elections.
"Our Parliament trails many others in the world for women's representation," said Sam Smethers, chief executive of the Fawcett Society.
"We cannot create a modern, inclusive, gender equal Parliament unless we do the basics and capture data on the diversity of candidates."
The Electoral Reform Society, which is backing the campaign, said the "legislation is ready and there is widespread support for this change to be made".
"The sooner it is enacted, the sooner the UK's shameful political gender gap can be bridged," said Jess Garland, its director of policy and research.
Dr Rosie Campbell, Professor of Politics at the University of Birkbeck who has extensively researched the make-up of parliamentary candidates, said it would help all concerned if the data was readily available.
"It would be a much more efficient way of getting this information into the public domain," she told BBC Radio 4's Woman's Hour.
"I certainly think they ought to do it and a little bit of a stick to persuade them would be a good idea."
She also told the programme that the cost of trying to become an MP was a "significant barrier" to many women wanting to enter public life which needed to be addressed.
Research published last month by academics from the University of Birkbeck and University College London's Constitution Unit into candidate selection in 2015 and 2017 found some women had spent up as much as £50,000 trying to get chosen by their respective political parties.
One candidate said they had lost £9,000 of their own money in travel and housing costs after basing themselves in the constituency they hoped to represent.
Dr Campbell said the figures were likely to be much higher in fiercely contested "safe seats", reflecting the lengths to which potential candidates were prepared to go, including by taking time off work.
According to the Representative Audit of Britain, the mean average election expense incurred by male and female candidates in 2015 was £3,093 for Conservatives and £2,179 for Labour candidates.