Brexit 'worst option' warning for May on customs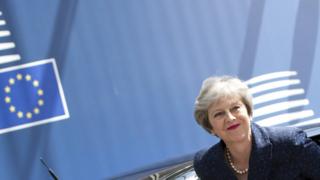 Theresa May has been warned by a leading Eurosceptic that accepting EU trade rules and regulations would be "the worst option" for Brexit.
"It's hard to think of a worse idea," Jacob Rees-Mogg said.
He was speaking after about 50 Tory Brexiteers met the Conservative chief whip amid mounting unease about the Prime Minister's new plan for customs after Brexit.
It was described as a tense meeting, the BBC's Norman Smith said.
Mrs May is trying to find an arrangement to unite her cabinet when ministers gather at her country retreat, Chequers, on Friday.
The UK is leaving the EU in March 2019, but has yet to agree how it will trade with the remaining EU members - who are part of a single market and a customs union - in years to come.
Some former Remain campaigners want the government to pursue close ties to the EU to avoid barriers to trade with Europe - but Eurosceptics say the UK needs freedom to set its own independent trade policy.
After two alternative models for customs were criticised, Downing Street has come up with what it calls a "third way" solution to be presented on Friday, claiming it will offer "the best of both worlds" - frictionless trade with Europe and the freedom to strike international trade deals.
But speaking on the BBC's Daily Politics, Mr Rees-Mogg hit out at suggestions the new arrangement could, in a bid to ensure smooth trading, involve a single market on goods with the EU and close alignment with its regulations.
Mr Rees-Mogg, who leads the pro-Brexit European Research Group of Tory MPs, said this would be a "really foolish policy" and "would not be a sensible way to run our economy after we've left the EU", adding: "I won't be reassured until I know the details of what comes out of Friday one way or the other."
In an attempt to address concerns, Mrs May said at Prime Minister's Questions the government would ensure "we are out of the customs union, that we are out of the single market, that we are out of the jurisdiction of the European Court of Justice, we are out of the Common Agricultural Policy, we are out of the Common Fisheries Policy, we bring an end to free movement, we take control of our borders, we have an independent trade policy".