At-a-glance: The new UK Brexit plan agreed at Chequers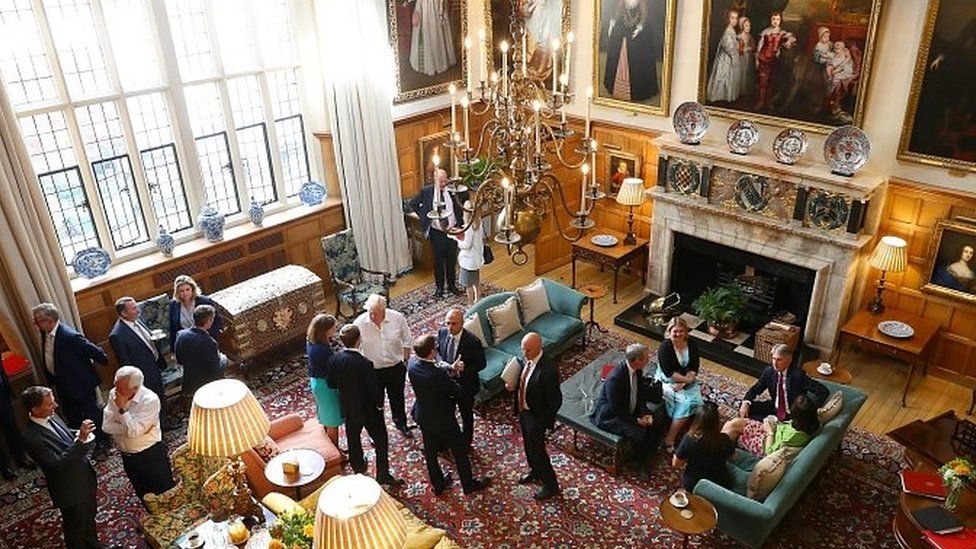 The UK will "maintain a common rulebook for all goods" with the EU, including agricultural products, after Brexit.
A treaty will be signed committing the UK to "continued harmonisation" with EU rules - avoiding friction at the UK-EU border, including Northern Ireland.
Parliament will oversee the UK's trade policy and have the ability to "choose" to diverge from the EU rules, "recognising that this would have consequences".
"Co-operative arrangements" will be established between EU and UK competition regulators.
"Different arrangements" will be organised for services "where it is in our interests to have regulatory flexibility".
A "joint institutional framework" will be established to interpret UK-EU agreements.
This would be done in the UK by UK courts, and in the EU by EU courts
But, decisions by UK courts would involve "due regard paid to EU case law in areas where the UK continued to apply a common rulebook".
Cases will still be referred to the European Court of Justice (ECJ) as the interpreter of EU rules, but "cannot resolve disputes between the two".
'Facilitated' customs arrangement
The borders between the UK and EU will be treated as a "combined customs territory".
The UK would apply domestic tariffs and trade policies for goods intended for the UK, but charge EU tariffs and their equivalents for goods which will end up heading into the EU.
A post-Brexit UK would be able to "control its own tariffs for trade with the rest of the world" without causing border disruption.
This avoids a hard Irish border, and removes the need for "backstop" arrangements to be put in place before the UK's withdrawal from the EU, the government says.
The agreement says it will end free movement of people "giving the UK back control over how many people enter the country".
A "mobility framework" will be set up to allow UK and EU citizens to travel to each other's territories, and apply for study and work.
These proposals represent "a precise and responsible approach to the final stage of the negotiations", the government says.
According to the government the plan:
Gives the UK an independent trade policy, with the ability to set its own non-EU tariffs and to reach separate trade deals
Ends the role of the ECJ in UK affairs
Ends annual payments to the EU budget with "appropriate contributions for joint action in specific areas"
The early reaction from Brexiteers has been that they need to see the full 100-plus page plan to see whether or not they agree with the government's claims.
Full details will be released in a white paper next week.
This is not a final Brexit deal. This is an agreement on the UK's preferred way forward as negotiations with the European Union about the future relationship reach a crucial stage.